Dyson and BMW top American Le Mans Series qualifying sessions at Lime Rock
| | |
| --- | --- |
| | Friday, July 8th 2011, 21:03 GMT |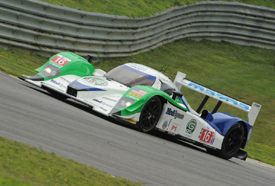 The Dyson Lola-Mazda and BMW squads led the way in LMP1 and GT qualifying respectively as the American Le Mans Series resumed at a slightly damp Lime Rock following its break for the Le Mans 24 Hours.
Chris Dyson put his team's #16 car on pole with a 45.708s lap, as series newcomer Steven Kane made a highly promising debut by completing an all-Dyson front row in the returning #20 entry, which the former McLaren AUTOSPORT BRDC Award winner will share with Humaid Al Masaood for the rest of the year.
The Muscle Milk Lola-Aston Martin was third quickest, completing the still-slender LMP1 field.
GT saw domination by BMW, as the Rahal Letterman Lanigan run cars of Jorg Muller and Joey Hand, and Bill Auberlen and Dirk Werner, qualified first and second in class, with the third-placed #45 Flying Lizard Porsche nearly a second adrift. The Corvettes completed the top five.
The Risi Ferrari of Jaime Melo and Toni Vilander has to start at the back following a practice tangle with Auberlen that sidelined the F458 Italia.
Genoa's Elton Julian and Green Hornet's new driver Jaap van Lagen took pole in the LMPC and GTC one-make classes respectively.
Pos  Cl   Drivers              Team/Car                Time
 1.  P1   Dyson/Smith          Dyson Lola-Mazda        45.708s
 2.  P1   Al Masaood/Kane      Dyson Lola-Mazda        45.881s
 3.  P1   Luhr/Graf            Muscle Milk Lola-Aston  46.040s
 4.  PC   Lux/Julian           Genoa FLM               48.105s
 5.  PC   Jeannette/Gonzalez   CORE FLM                48.498s
 6.  PC   Marcelli/Drissi      Intersport FLM          48.534s
 7.  PC   Bennett/Montecalvo   CORE FLM                49.413s
 8.  PC   Field/Kovacic        Intersport FLM          49.466s
 9.  PC   Nicolosi/Boon        Performance Tech FLM    49.833s
10.  GT   Muller/Hand          BMW                     50.925s
11.  GT   Auberlen/Werner      BMW                     51.179s
12.  GT   Bergmeister/Long     Flying Lizard Porsche   51.872s
13.  GT   Gavin/Magnussen      Corvette                51.897s
14.  GT   Beretta/Milner       Corvette                51.954s
15.  GT   Neiman/Holzer        Flying Lizard Porsche   52.005s
16.  GT   Murry/Lazzaro        Robertson Doran Ford    52.109s
17.  GT   Brown/Cosmo          Extreme Speed Ferrari   52.350s
18.  GT   Henzler/Sellers      Falken Porsche          52.388s
19.  GT   Sharp/van Overbeek   Extreme Speed Ferrari   52.956s
20.  GT   Junqueira/da Matta   RSR Jaguar              52.958s
21.  GT   Miller/Maassen       Miller Porsche          53.211s
22.  GTC  LeSaffre/van Lagen   Green Hornet Porsche    54.982s
23.  GTC  Pappas/Faulkner      Black Swan Porsche      55.133s
24.  GTC  Ham/Thompson         JDX Porsche             55.225s
25.  GTC  von Moltke/Pierce    TRG Porsche             55.334s
26.  GTC  Ende/Pumpelly        TRG Porsche             55.587s
27.  GTC  Sweedler/Leitzinger  Alex Job Porsche        55.587s
28.  GT   Robertson/Robertson  Robertson Doran Ford    55.676s
29.  GTC  Welch/Sofronas       Green Hornet Porsche    55.874s
30.  GT   Jones/Moran          RSR Jaguar              56.960s
31.  GT   Melo/Vilander        Risi Ferrari