Lewis Hamilton says Silverstone Friday practice not a total write-off despite rain
| | |
| --- | --- |
| By Matt Beer | Friday, July 8th 2011, 16:05 GMT |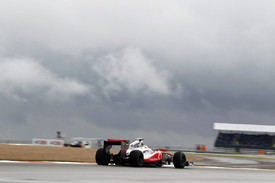 Lewis Hamilton reckons he was still able to get some useful information about McLaren's latest upgrades - including a new rear wing - despite the rain in Silverstone practice.
Though most drivers were frustrated with the total lack of dry running on day one of the weekend of the exhaust rules clampdown, Hamilton felt he had managed to learn at least a little about the new parts.
"Despite the lack of running, today was actually quite encouraging; we tested a couple of things and I managed to pick up quite a decent feeling for the car," he said.
"It's going to be interesting tomorrow if it's dry, because I think our car is looking quite good. The new rear wing also felt quite positive, but we've still got to decide whether we carry it over into tomorrow and the race itself."
But his team-mate Jenson Button was less confident about the day's value.
"We don't really know if our new rear wing is an improvement over the older version," Button said. "It has a different downforce level, but I'm still not sure what we're going to run for the rest of the weekend."
Hamilton was summoned to the stewards after the first session, along with Red Bull's Mark Webber, to discuss the use of DRS in the wet but when on slicks in practice - which Hamilton had been doing during aero tests. No action was taken, and Hamilton said the meeting was more about clarifying procedures.
"The reason I went to the stewards was to discuss the correct usage of DRS in wet conditions: the rules don't clearly state whether you can use DRS on slicks in wet conditions, which is what we did this morning," he explained.
"The stewards just wanted to understand so that they could tighten the wording of the regulations for the next race. I also suggested a couple of tweaks to make the regulations clearer and safer, so it was quite a useful visit."