Alexander Sims quickest in GP3 practice two at Silverstone
| | |
| --- | --- |
| By Charles Bradley | Friday, July 8th 2011, 15:32 GMT |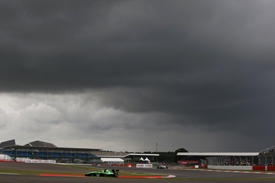 Alexander Sims was quickest in the second half-hour of GP3 free practice at Silverstone on Friday for Status Grand Prix.
Sims lapped the Silverstone Grand Prix circuit in 2m11.573s, almost a second clear of Lewis Williamson (MW Arden) and Daniel Morad (Carlin).
As in the morning's session, rain showers blighted the running. Williamson was fastest early on, quickly beaten by Sims, then Rio Haryanto and then Maxim Zimin, who then immediately spun off at Abbey and beached himself.
By the halfway point, morning pacesetter Adrian Quaife-Hobbs was on top, with Sims and then Williamson beating his time as the conditions improved. Despite more drizzle, Valtteri Bottas grabbed top spot for a few minutes, swapping the position with Haryanto.
Then Sims produced the quickest lap of the session, over a second faster than his rivals at the time and 0.93s faster by the end. Williamson spun at Stowe as he tried to improve, as deteriorating weather conditions conspired against him.
With Tom Dillmann, Matias Laine and Zoel Amberg all going off and causing yellows, there were no further improvements.
Pos  Driver                  Team       Time       Gap
 1.  Alexander Sims          Status     2m11.573s
 2.  Lewis Williamson        MW Arden   2m12.503s  + 0.930s
 3.  Daniel Morad            Carlin     2m12.519s  + 0.946s
 4.  Valtteri Bottas         ART        2m12.581s  + 1.008s
 5.  Rio Haryanto            Manor      2m12.622s  + 1.049s
 6.  Vittorio Ghirelli       Jenzer     2m12.785s  + 1.212s
 7.  Nico Muller             Jenzer     2m12.952s  + 1.379s
 8.  Adrian Quaife-Hobbs     Manor      2m13.209s  + 1.636s
 9.  Zoel Amberg             Atech      2m13.282s  + 1.709s
10.  Nigel Melker            RSC Mucke  2m13.337s  + 1.764s
11.  Conor Daly              Carlin     2m13.376s  + 1.803s
12.  Maxim Zimin             Jenzer     2m13.453s  + 1.880s
13.  Marlon Stockinger       Atech      2m13.480s  + 1.907s
14.  Mitch Evans             MW Arden   2m13.571s  + 1.998s
15.  Tom Dillmann            Addax      2m13.619s  + 2.046s
16.  Pedro Nunes             ART        2m13.627s  + 2.054s
17.  Antonio Felix da Costa  Status     2m13.824s  + 2.251s
18.  Aaro Vainio             Tech 1     2m13.854s  + 2.281s
19.  Leonardo Cordeiro       Carlin     2m14.336s  + 2.763s
20.  Tamas Pal Kiss          Tech 1     2m14.494s  + 2.921s
21.  Simon Trummer           MW Arden   2m14.639s  + 3.066s
22.  Ivan Lukashevich        Status     2m14.794s  + 3.221s
23.  Gabby Chaves            Addax      2m14.803s  + 3.230s
24.  James Calado            ART        2m15.267s  + 3.694s
25.  Nick Yelloly            Atech      2m15.434s  + 3.861s
26.  Matias Laine            Manor      2m15.729s  + 4.156s
27.  Luciano Bacheta         RSC Mucke  2m16.303s  + 4.730s
28.  Michael Christensen     RSC Mucke  2m16.483s  + 4.910s
29.  Dean Smith              Addax      2m16.546s  + 4.973s
30.  Thomas Hylkema          Tech 1     2m17.594s  + 6.021s