Webber tops wet opening practice for the British Grand Prix
| | |
| --- | --- |
| By Pablo Elizalde | Friday, July 8th 2011, 09:33 GMT |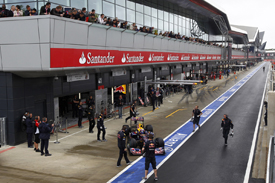 Mark Webber went quickest in a very wet opening practice session for this weekend's British Grand Prix.
The Australian's best of 1m46.603s came late in the session and it was enough to outpace Mercedes' Michael Schumacher by over half a second on a morning that gave no answers as to how the cars have been affected by the ban on off-throttle diffusers.
On the wet track, however, things did not seem to change much, as Webber kept Red Bull ahead of its rivals once more.
Rubens Barrichello posted the third quickest time for Williams, with Sauber's Sergio Perez completing a promising session by finishing as fourth fastest.
Felipe Massa was the quickest of the Ferraris, the Brazilian completing the top five.
Virgin's Jerome d'Ambrosio was the first man to complete a timed lap nearly 20 minutes into the session, with Nico Rosberg next to set a time, going 11 seconds quicker than the Belgian.
Button moved to the top of the times 26 minutes into the session, while Alonso, using Ferrari's new rear wing, spun without consequence during his first timed run.
Webber was next to go quickest, the Australian stopping the clock at 1m50.032s on intermediate tyres. Button regained first place moments later with the first lap in the 1m49s as the action on track intensified, with team-mate Hamilton taking the top spot with 57 minutes left, only for Button to outpace him right away.
As the times continued to improved, it was Vettel who jumped to first with some 50 minutes to go, the world champion lapping in the 1m48s. Despite a trip through the gravel, Schumacher outpaced Vettel thee minutes later to move to the top of the times.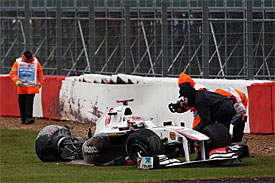 Schumacher stayed in first place for several minutes, before Webber improved by less than a tenth to relegate the German to second as the threat of rain intensified. The Australian did not last long there, though, as Alonso beat his time by 0.024 seconds just a moment before rain hit the track with some 25 minutes to go.
The biggest incident of the day came when Kamui Kobayashi lost control of his car at Turn 18, the Japanese spinning on the wet kerbs with 13 minutes left. His car came close to rolling, but luckily for Kobayashi it did not, and instead hit the barriers hard sideways.
The Sauber driver managed to climb out unassisted, but his car was heavily damaged and his team faces a race against time to get it ready for the afternoon's session.
Track conditions improved slightly in the last ten minutes and Webber made good use of that to jump to the top, becoming the first man to lap in the 1m47s and minutes later in the 1m46s.

Pos  Driver                Team                   Time               Laps
 1.  Mark Webber           Red Bull-Renault       1m46.603s            19
 2.  Michael Schumacher    Mercedes               1m47.263s  + 0.660   20
 3.  Rubens Barrichello    Williams-Cosworth      1m47.347s  + 0.744   23
 4.  Sergio Perez          Sauber-Ferrari         1m47.422s  + 0.819   22
 5.  Felipe Massa          Ferrari                1m47.562s  + 0.959   13
 6.  Nico Rosberg          Mercedes               1m47.758s  + 1.155   23
 7.  Fernando Alonso       Ferrari                1m48.161s  + 1.558   16
 8.  Lewis Hamilton        McLaren-Mercedes       1m48.549s  + 1.946   21
 9.  Nico Hulkenberg       Force India-Mercedes   1m48.598s  + 1.995   19
10.  Jaime Alguersuari     Toro Rosso-Ferrari     1m48.678s  + 2.075   22
11.  Paul di Resta         Force India-Mercedes   1m48.730s  + 2.127   18
12.  Sebastien Buemi       Toro Rosso-Ferrari     1m48.778s  + 2.175   18
13.  Sebastian Vettel      Red Bull-Renault       1m48.794s  + 2.191   21
14.  Pastor Maldonado      Williams-Cosworth      1m48.809s  + 2.206   17
15.  Jenson Button         McLaren-Mercedes       1m48.841s  + 2.238   23
16.  Nick Heidfeld         Renault                1m48.941s  + 2.338   20
17.  Vitaly Petrov         Renault                1m49.603s  + 3.000   15
18.  Kamui Kobayashi       Sauber-Ferrari         1m50.133s  + 3.530   17
19.  Jarno Trulli          Lotus-Renault          1m50.222s  + 3.619   14
20.  Karun Chandhok        Lotus-Renault          1m51.119s  + 4.516   17
21.  Timo Glock            Virgin-Cosworth        1m52.470s  + 5.867   17
22.  Tonio Liuzzi          HRT-Cosworth           1m53.143s  + 6.540   20
23.  Jerome D'Ambrosio     Virgin-Cosworth        1m53.469s  + 6.866   26
24.  Daniel Ricciardo      HRT-Cosworth           1m54.334s  + 7.731   24

All Timing Unofficial