Vettel taking nothing for granted despite huge championship lead
| | |
| --- | --- |
| By Jonathan Noble | Thursday, July 7th 2011, 10:52 GMT |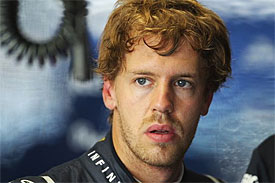 Sebastian Vettel may be odds-on favourite for victory in the British Grand Prix this weekend to further increase his runaway lead in the world championship, but he insists he is taking nothing for granted about his dominance continuing.
The German driver is 77 points clear of nearest challengers Mark Webber and Jenson Button in the title chase, and rival teams concede that the high-speed turns at Silverstone are likely to be perfect stomping ground for Red Bull Racing's car.
But speaking ahead of the weekend, Vettel said his mindset was one of simply focusing on doing the best job possible - rather than getting too carried away that it should be another straightforward weekend.
"I don't arrive like that," he said, when asked if it was an easy feeling this year arriving at races convinced he could take pole and the win.
"Obviously, when we arrive we are confident and we believe in ourselves. And we believe that we can have a good weekend. But I can't take it for granted to arrive and say pole, race. It never comes easy.
"In terms of mindset I try to have the same approach as last year. I think last year we had a good start but many things going wrong at some time, mistakes here and there. Also I did mistakes.
"All in all it didn't help us to put ourselves in a strong position for the championship. We were really relying on every single race at the end. This year we had a very good start and it can help us in the end, that's for sure. But it's still a long, long way.
"Just because we won it last year you could argue that, okay, we know how to do it. But it doesn't mean we can forget about all the little steps you need to take to win."
Although only once in F1 history has a driver lost a title with an advantage of Vettel's magnitude (Niki Lauda in 1976), he is adamant that the championship is far from won yet.
"You never know," he said. "If you look at championships in the past, it went according to plan and others when it didn't. It reminds me how quickly things can change. It takes two or three bad races and it could be a different story again.
"We've seen last year, with the points system. On the one hand you might have a big gap, a big number, but it's a bit fake because you are tempted by the big number. But then you get 25 points for a win, but zero if you don't finish."
Vettel also believes that he feels his attitude to racing this year is no different to 12 months ago - even though the results are very different at this stage of the campaign.
"I think the brain is still the same. I didn't change it," he said. "But the nice bit...my biggest dream was to become Formula 1 world champion. And then we obviously achieved that last year. It took some time to sink in and understand that it happened.
"But the best thing about it is the fact that no-one can change that now. No-one can take this away from me, from us, any more. Whatever happens in the future this will always be there.
"More than anything else you try to prove a point to yourself. Of course you want to show the people, you want to show the team. But most of all you want to show yourself you're good enough to be at the top and good enough to win the championship.
"If I compare this year to last year, the way I approach races there's not much difference. It would be wrong to feel too comfortable or secure."
Vettel also insisted that he was not worried by any criticisms he has faced from media or fans – relating to either his position inside Red Bull Racing or the critics of his famous 'finger' waving.
"I am who I am," he said. "Of course at some stage I had to figure out that there are some people against you. I'm trying to achieve something. I have my target. I know what it takes.
"Next to that there are things which other people would like you to do or achieve. But you cannot please everyone. Unfortunately there will always be some people offended by what you do – for instance, with the finger - but that's how it is. But there are so many people following Formula 1 and it's great for us to walk out into a sort of arena and show what we can do in front of so many people.
"I think there are other sports where people work very, very hard as well, but probably don't get so much recognition."