McLaren says European Grand Prix form was just a blip
| | |
| --- | --- |
| By Sam Tremayne | Wednesday, July 6th 2011, 11:35 GMT |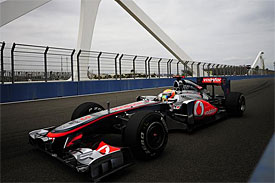 McLaren expects to return to form at the British Grand Prix this weekend, having labelled its downturn in Valencia as a 'blip'.
Managing Director Jonathan Neale said lessons had already been learned from the European Grand Prix, where McLaren found itself behind both Red Bull and Ferrari in the pecking order - with Lewis Hamilton finishing fourth and Jenson Button sixth.
"We underperformed at Valencia, we didn't really get the car dialled in properly," Neale explained during a Vodafone phone-in on Wednesday. "I don't think we delivered to our full potential there, and therefore I'm certainly regarding it as a blip.
"We understand the reasons why, and we've done something about it.
"Canada and Valencia have broadly similar aerodynamic characteristics, but coming into Silverstone there'd be no reason for anybody to make a read on our performance on those circuits relative to Silverstone.
"We've learned from the lessons of the past and we can fit that next time we come to a similar style of circuit. Others nip at the heels of you so we paid a price for that, but I'm not in any way disheartened or dissuaded from our ability to be competitive in Silverstone."
Neale also believes McLaren is catching Red Bull, even if it seemed to take a backward step in Valencia.
"I think if anybody plots the underlying race and qualifying pace, you will see we are catching Red Bull.
"They still have had an advantage, certainly in qualifying, but they have been on record in the media as recognising that we have had a faster race car than them on a few races in the recent past, and we will continue to keep that pressure up."
While Neale conceded the change of rules on exhaust blown diffusers had forced McLaren to change direction, he also insisted it opened the championship up – and revealed the team would still be bringing upgrades to Silverstone.
"We've got a range of upgrades for the car, the aerodynamic package will be improved but I guess the technical landscape will be pretty much dominated by what happens to everybody's car with the changes to the technical regulations on engine loads.
"There is no doubt its going to affect all of the top teams; it's definitely going to affect us, Red Bull have already said its definitely going to affect them, the key question is who is it going to affect most. I don't think we are really going to know that until Saturday afternoon.
"The uncertainty that is raised by the recent engine regulation changes will make it really interesting this weekend and could open the season up.
"We're really looking forward to Silverstone, a high speed circuit. The guys should be optimistic because we have some great upgrades for this weekend.
"Two British world champions, it's like a home grand prix and there's a huge amount of excitement on the build up to it."