Lewis Hamilton concerned about his place in Formula 1's record books
| | |
| --- | --- |
| By Matt Beer | Sunday, July 3rd 2011, 21:33 GMT |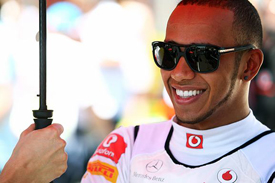 Lewis Hamilton has admitted that he is concerned about his place in Formula 1's record books if he is not able to emulate the dominant form Sebastian Vettel is currently showing.
Vettel took Hamilton's place as F1's youngest ever world champion when he secured the 2010 title, appears to be on the way to a second straight crown, and after Valencia last weekend has now won more grands prix than the McLaren driver.
Hamilton told the Daily Express that it was extremely important to him that he left the sport as a multiple champion.
"It would massively suck if I only won one world title - massively suck," he said.
"It would feel like a waste of so many years. A lot of people say it's just about participating, but it's not.
"I want to win. I'm here to win. It's all I care about, it's what I live for. Second feels less devastating but third, fourth is not good.
"Then you have to look at things, you could be down at HRT F1 and be finishing 20th or worse. I wouldn't be able to race then."
He acknowledged that he was aware of the potential for Vettel to become the top driver of the current generation.
"He won the world championship at a younger age than me, taking me out of the record books," said Hamilton. "I just hope he doesn't get too far ahead of me in terms of wins."
Hamilton has been linked to a move to Red Bull when his McLaren contract expires, and said he was open-minded about what to do next.
"I feel I have quite a few peak years left in me, but I think I'm at a good point in my career," he said.
"Of course every decision you make is important. You will always ask questions and look at all options and think: Is there anything better you can do?
"Who knows what regulations are going to do? But we have a very strong team, and Mercedes Benz always have the best engines."