Anthony Davidson puts Peugeot on Imola ILMC pole
| | |
| --- | --- |
| By Gary Watkins | Saturday, July 2nd 2011, 13:52 GMT |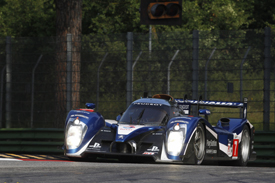 Peugeot driver Anthony Davidson claimed pole position for the fourth round of the Intercontinental Le Mans Cup at Imola.
Davidson, who shares his Peugeot 908 turbodiesel with Sebastien Bourdais, set a best time of 1m31.736s around the former home of the San Marino Grand Prix to claim the top spot by six tenths of a second.
Davidson, who also set pole at the Petit Le Mans ILMC race last year, said: "It's good to be on pole position anywhere but especially on this track. It's good to get to the traffic first. With 49 cars on the track, traffic is going to be everything tomorrow."
Le Mans 24 Hours winner Marcel Fassler, who is driving here with Timo Bernhard, took second place in the best of the Audi R18 TDIs on a 1m32.354s.
Stephane Sarrazin ended up third in the second Peugeot, with Allan McNish fourth in the other turbodiesel Audi. Guillaume Moreau was top petrol-powered contender in OAK Racing's OAK Pescarolo-Judd.
LMP2 honours went to Mathias Beche in the TDS Racing ORECA-Nissan. The Swiss driver edged out the similar Boutsen Energy Racing car driven by Dominik Kraihamer.
Jorg Muller narrowly claimed pole from Schnitzer BMW team-mate Dirk Werner in the hotly-contested GTE class. There was just two tenths between the two BMW M3 drivers and the top nine cars were covered by a second.
Pos  Cl     Drivers                           Team/Car                     Time
 1.  P1     Bourdais/Davidson                Peugeot                      1m31.736s
 2.  P1     Bernhard/Fassler                 Audi                         1m32.354s
 3.  P1     Montagny/Sarrazin                Peugeot                      1m32.732s
 4.  P1     Kristensen/McNish                Audi                         1m32.974s
 5.  P1     Ragues/Moreau                    Oak Pescarolo-Judd           1m34.746s
 6.  P1     Jani/Prost                       Rebellion Lola-Toyota        1m35.047s
 7.  P1     Belicchi/Boullion                Rebellion Lola-Toyota        1m35.700s
 8.  P1     Collard/Tinseau/Jousse           Pescarolo-Judd               1m35.996s
 9.  P1     Cortes/Geri/Piccini              MIK Zytek 09                 1m36.084s
10.  P2     Beche/Thiriet/Firth              TDS ORECA-Nissan             1m37.208s
11.  P2     Kraihamer/de Crem                Boutsen ORECA-Nissan         1m37.476s
12.  P2     Leventis/Watts/Kane              Strakka HPD                  1m38.118s
13.  P2     Mailleux/Ordonez/Ayari           Signatech ORECA-Nissan       1m38.351s
14.  P2     Ojjeh/Lombard/Kimber-Smith       Greaves Zytek-Nissan         1m38.533s
15.  P2     Tucker/Bouchut/Barbosa           Level 5 Lola-HPD             1m38.959s
16.  P2     Frey/Meichtry/Rostan             Race Performance ORECA-Judd  1m38.991s
17.  P2     Nicolet/Premat                   Oak Pescarolo-Judd           1m39.130s
18.  P2     Perez-Companc/Russo/Kaffer       Pecom Lola-Judd              1m39.198s
19.  P2     Rosier/Basso                     Extreme Limite Norma-Judd    1m39.848s
20.  P2     Barlesi/da Rocha/Lafargue        Oak Pescarolo-Judd           1m40.146s
21.  P2     Gates/Garofall/Phillips          RLR MG Lola-Judd             1m40.543s
22.  P2     Erdos/Newton/Collins             RML HPD                      1m40.642s
23.  FLM    Julian/Zugel/Petersen            Genoa FLM                    1m42.574s
24.  FLM    Ducote/Marcelli/Marroc           JMB FLM                      1m42.755s
25.  FLM    Schultis/Simon/Schell            Pegasus FLM                  1m43.285s
26.  GTE P  Farfus/Muller                    BMW                          1m44.468s
27.  FLM    Moro/Zhang/Graves                Hope FLM                     1m44.550s
28.  GTE P  Werner/Lamy                      BMW                          1m44.683s
29.  GTE P  Melo/Vilander                    AF Corse Ferrari             1m44.691s
30.  GTE P  Ortelli/Makowiecki               Luxury Ferrari               1m44.725s
31.  GTE P  Bell/Walker                      JMW Ferrari                  1m44.730s
32.  GTE P  Lieb/Lietz                       Felbermayr Porsche           1m44.895s
33.  GTE P  Fisichella/Bruni                 AF Corse Ferrari             1m45.130s
34.  GTE P  Farnbacher/Simonsen              Farnbacher Ferrari           1m45.384s
35.  GTE P  Pilet/Henzler                    IMSA Porsche                 1m45.467s
36.  GTE A  Long/Roda                        Proton Porsche               1m45.650s
37.  GTE P  Goossens/Holzer                  Prospeed Porsche             1m45.767s
38.  GTE P  Beltoise/Jakubowski/Firman       Luxury Ferrari               1m45.779s
39.  GTE P  Dolan/Hancock                    Jota Aston Martin            1m45.841s
40.  GTE A  Perazzini/Cioci/Lemeret          AF Corse Ferrari             1m45.906s
41.  GTE A  Krohn/Jonsson/Rugolo             Krohn Ferrari                1m46.219s
42.  GTE A  Armindo/Narac                    IMSA Porsche                 1m46.283s
43.  GTE A  Bornhauser/Canal/Gardel          Larbre Corvette              1m46.614s
44.  GTE A  Hummel/Christodoulou/Quaife      CRS Ferrari                  1m46.798s
45.  GTE A  Ehret/Lynn/Wills                 CRS Ferrari                  1m48.176s
46.  GTE A  Ried/Felbermayr                  Felbermayr Porsche           1m48.197s
47.  GTE P  Rossiter/Mowlem/Hirschi          Jetalliance Lotus            1m49.037s
48.  GTE P  Slingerland/Rich/Lichtner-Hoyer  Jetalliance Lotus            1m50.053s
49.  FLM    Hartshorne/Keating/Keen          Neil Garner FLM