Jean-Eric Vergne hustles to Hungary Formula Renault 3.5 pole
| | |
| --- | --- |
| By Peter Mills | Saturday, July 2nd 2011, 09:07 GMT |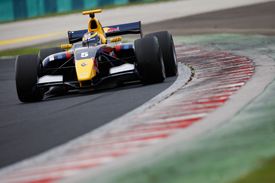 Carlin's Jean-Eric Vergne shrugged off a flat-spotted set of tyres to claim pole position for this afternoon's opening Formula Renault 3.5 race at the Hungaroring.
The Frenchman's second pole of the season completes a commanding start to his weekend. Vergne set the fastest time in both Friday practice sessions, and recovered from a troubled start to qualifying by hustling a time out of his car on the final lap.
"That didn't go to plan," said team boss Trevor Carlin. "To be honest we sent Jean-Eric out at the wrong time, and he came out in massive traffic. That ruined his routine and he locked up and got a flat spot. Then he just drove the hell out of it on the last lap. He wasn't expecting [pole]."
BVM Target's Sergio Canamasas was also in incredible form. On provisional pole until the dying seconds, the Spaniard ended the morning just over a tenth shy of Vergne's effort. Unfortunately for Canamasas, a four-place grid penalty incurred for an incident at the last round at the Nurburgring will deny him a front row start.
"The team did a good a job, and I am so happy with the pace," said Canamasas, who has enjoyed a huge upturn in form after an awful 2010 with the departed FHV Interwetten squad. "It is a pity about the Nurburgring penalty, but I believe we can fight for a podium anyway."
P1 Motorsport's Daniil Move is promoted to second at Canamasas' expense. Having competed in the championship for the past five seasons, the Russian is hungry for his first win in the series.
Brendon Hartley is also well-placed to break his duck with newcomer Gravity-Charouz. The Kiwi will start from the clean side of the grid in third.
"I think it is one of our best qualifying performances of the year," said Hartley. "We have been struggling in qualifying so it is a good step forward for our race [prospects]. It is also nice to see the field is so close. There are not that many championships in the world where 20 cars are covered by less than one second."
Fortec's Alexander Rossi will join Hartley on the second row. After leading the championship earlier in the season, Rossi has dropped to sixth in the standings following retiring from three successive races owing to contact.
Rossi's immediate target in the championship, Albert Costa, was a disappointing 12th, but the Catalan is optimistic of making progress this afternoon.
"The car is really, really good but I made a mistake twice and then afterwards the tyres were a little bit finished," said Costa. "The car snapped into oversteer a couple of times, but honestly it's very good. We'll see later if we can push and make up some places."
Hispania's new Formula 1 signing Daniel Ricciardo (ISR) will start from fifth, ahead of the demoted Canamasas and debutant Adam Carroll (P1 Motorsport). Championship leader Robert Wickens (Carlin) struggled with new-tyre pace and could only manage 11th place on the grid for this afternoon's low-aero configuration race.
Pos  Driver             Team            Time       Gap
 1.  Jean-Eric Vergne   Carlin           1m33.642s
 2.  Sergio Canamasas   BVM Target       1m33.794s  + 0.152s
 3.  Daniil Move        P1               1m33.809s  + 0.167s
 4.  Brendon Hartley    Gravity-Charouz  1m33.901s  + 0.259s
 5.  Alexander Rossi    Fortec           1m33.937s  + 0.295s
 6.  Daniel Ricciardo   ISR              1m33.953s  + 0.311s
 7.  Adam Carroll       P1               1m33.994s  + 0.352s
 8.  Nathanael Berthon  ISR              1m34.030s  + 0.388s
 9.  Nelson Panciatici  KMP              1m34.094s  + 0.452s
10.  Jan Charouz        Gravity-Charouz  1m34.204s  + 0.562s
11.  Robert Wickens     Carlin           1m34.257s  + 0.615s
12.  Albert Costa       Epic             1m34.313s  + 0.671s
13.  Kevin Korjus       Tech 1           1m34.383s  + 0.741s
14.  Jake Rosenzweig    Mofaz            1m34.442s  + 0.800s
15.  Fairuz Fauzy       Mofaz            1m34.443s  + 0.801s
16.  Sten Pentus        Epic             1m34.458s  + 0.816s
17.  Arthur Pic         Tech 1           1m34.487s  + 0.845s
18.  Oliver Webb        Pons             1m34.549s  + 0.907s
19.  Cesar Ramos        Fortec           1m34.557s  + 0.915s
20.  Marcos Martinez    Pons             1m34.593s  + 0.951s
21.  Mikhail Aleshin    KMP              1m34.752s  + 1.110s
22.  Daniel Zampieri    BVM Target       1m34.986s  + 1.344s
23.  Stephane Richelmi  Draco            1m35.131s  + 1.489s
24.  Andre Negrao       Draco            1m35.237s  + 1.595s
25.  Daniel McKenzie    Comtec           1m35.309s  + 1.667s
26.  Daniel de Jong     Comtec           1m35.326s  + 1.684s