Mark Martin takes 50th pole of his career at Daytona
| | |
| --- | --- |
| By Diego Mejia | Saturday, July 2nd 2011, 00:26 GMT |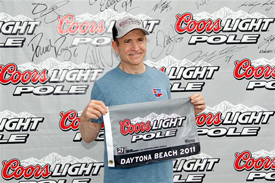 NASCAR veteran Mark Martin edged Daytona 500 winner Trevor Bayne in qualifying for Saturday's Coke Zero 400, claiming the 50th pole position of his career.
The 52-year-old, never a winner at Daytona, beat the benchmark set earlier in the session by the Wood Brothers rookie by 17 thousandths of a second, with a lap of 49.433 seconds at an average speed of 182.086 mph.
Martin's pole was the tip of the iceberg for Hendrick Motorsports as all the team's cars qualified in the top 10 and will be lining up one behind another on the outside as Martin's pole allows him to choose which lane he wants for the start of the race. Jeff Gordon will line up fourth, Daytona 500 polesitter Dale Earnhardt Jr sixth and reigning champion Jimmie Johnson eighth.
"I really didn't expect to get the pole," said Martin, a polesitter at Daytona for the fourth time in his Cup career. "When I ran it could have been first or 21st. I had no idea. They didn't tell me what my first lap was, that it was actually the quickest of the first laps so I had no idea. You just go out and do your thing. At Talladega we went out and we thought we had a shot at the pole and we didn't.
"Evidently they tweaked things just right this time just to get that last little bit of speed out of it, more than anyone else."
Clint Bowyer was third fastest, underlining the speed of the Richard Childress Chevrolets that looked quick working in tandem, even trying a four-car train during Friday's practice. In contrast the Penske Dodges were not quick on their own in qualifying (25th and 26th) after running among the fastest while in tandem during Friday's 45-minute session.
Roush Fenway's David Ragan was fifth while TRG's Andy Lally was seventh, making it three Roush-Yates powered Fords in the top seven. Richard Petty Motorsports' Fords had topped practice with the tandem of Marcos Ambrose and AJ Allmendinger, the latter qualifying ninth ahead of RCR's Paul Menard.
Ironically Stewart Haas' Tony Stewart will start Saturday night's event - which he has won three times in the past six years - right beside Red Bull's Brian Vickers in 19th following their clash at Sears Points last week.
Although running on pace while in tandem on Friday, the Joe Gibbs Racing Toyotas were unusually slow in qualifying, ending up down in 36th, 37th and 38th on the grid.
Tony Raines and JJ Yeley failed to make the field.
Pos  Driver              Team/Car                     Time     Gap
 1.  Mark Martin         Hendrick Chevrolet           49.433s
 2.  Trevor Bayne        Wood Brothers Ford           49.450s  + 0.017s
 3.  Clint Bowyer        Childress Chevrolet          49.553s  + 0.120s
 4.  Jeff Gordon         Hendrick Chevrolet           49.564s  + 0.131s
 5.  David Ragan         Roush Fenway Ford            49.636s  + 0.203s
 6.  Dale Earnhardt Jr   Hendrick Chevrolet           49.658s  + 0.225s
 7.  Andy Lally          TRG Chevrolet                49.713s  + 0.280s
 8.  Jimmie Johnson      Hendrick Chevrolet           49.725s  + 0.292s
 9.  AJ Allmendinger     Petty Ford                   49.738s  + 0.305s
10.  Paul Menard         Childress Chevrolet          49.742s  + 0.309s
11.  Ryan Newman         Stewart Haas Chevrolet       49.753s  + 0.320s
12.  Jeff Burton         Childress Chevrolet          49.784s  + 0.351s
13.  Kasey Kahne         Red Bull Toyota              49.792s  + 0.359s
14.  Carl Edwards        Roush Fenway Ford            49.793s  + 0.360s
15.  Marcos Ambrose      Petty Ford                   49.794s  + 0.361s
16.  Matt Kenseth        Roush Fenway Ford            49.817s  + 0.384s
17.  Greg Biffle         Roush Fenway Ford            49.839s  + 0.406s
18.  Jamie McMurray      Earnhardt Ganassi Chevrolet  49.842s  + 0.409s
19.  Tony Stewart        Stewart Haas Chevrolet       49.848s  + 0.415s
20.  Brian Vickers       Red Bull Toyota              49.870s  + 0.437s
21.  Landon Cassill      Phoenix Chevrolet            49.905s  + 0.472s
22.  Kevin Conway        NEMCO Toyota                 49.914s  + 0.481s
23.  David Reutimann     Waltrip Toyota               49.918s  + 0.485s
24.  Bobby Labonte       JTG Daugherty Toyota         49.933s  + 0.500s
25.  Kurt Busch          Penske Dodge                 49.952s  + 0.519s
26.  Brad Keselowski     Penske Dodge                 49.989s  + 0.556s
27.  Travis Kvapil       Front Row Ford               50.040s  + 0.607s
28.  Regan Smith         Furniture Row Chevrolet      50.041s  + 0.608s
29.  Mike Skinner        Germain Toyota               50.060s  + 0.627s
30.  Juan Pablo Montoya  Earnhardt Ganassi Chevrolet  50.074s  + 0.641s
31.  Kevin Harvick       Childress Chevrolet          50.097s  + 0.664s
32.  Casey Mears         Germain Toyota               50.107s  + 0.674s
33.  Michael McDowell    HP Toyota                    50.110s  + 0.677s
34.  Martin Truex Jr     Waltrip Toyota               50.158s  + 0.725s
35.  Geoff Bodine        Baldwin Chevrolet            50.206s  + 0.773s
36.  Denny Hamlin        Gibbs Toyota                 50.215s  + 0.782s
37.  Joey Logano         Gibbs Toyota                 50.256s  + 0.823s
38.  Kyle Busch          Gibbs Toyota                 50.320s  + 0.887s
39.  David Gilliland     Front Row Ford               50.379s  + 0.946s
40.  Dave Blaney         Baldwin Chevrolet            50.387s  + 0.954s
41.  Terry Labonte       FAS Lane Ford                50.396s  + 0.963s
42.  Mike Bliss          Gordon Dodge                 50.589s  + 1.156s
43.  Joe Nemechek        NEMCO Toyota                 50.255s  + 0.822s

Did not qualify:

      Tony Raines         Front Row Ford               50.459s  + 1.026s
      JJ Yeley            Whitney Chevrolet            51.209s  + 1.776s