Le Mans organiser the ACO welcomes Porsche's return to the top class
| | |
| --- | --- |
| By Matt Beer | Friday, July 1st 2011, 15:17 GMT |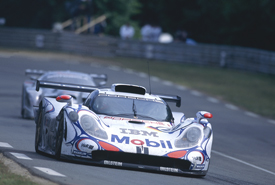 Le Mans organiser the Automobile Club de l'Ouest has expressed its delight at Porsche's decision to return to the top class of the 24 Hours from 2014.
Porsche announced on Thursday that it would field a new LMP1 car at Le Mans in three years' time - marking the 16-time race-winner's first assault on outright victory in the event since 1998.
ACO president Jean-Claude Plassart said: "We're delighted that Porsche is making its comeback to the Le Mans 24 Hours in the LMP1 category while still racing officially in the LM GTE categories.
"Historically speaking, Porsche is a make closely linked to our event in which it still holds the record for the highest number of victories. That it is coming back to try and improve this figure is great news."
Plassart feels that Porsche's decision is a strong endorsement of the route the ACO has pursued with its technical regulations in recent years.
"It is also recognition of the work carried out by the Automobile Club de l'Ouest in the context of its regulations," he said.
"Porsche in its announcement praised the evolutions and the interest of the regulations that open the door to new technologies. Finally, this announcement shows the ever-increasing prestige of our blue riband event."
ACO sports manager Vincent Beaumesnil said that Porsche would be among the manufacturers helping to shape the next generation Le Mans rules.
"It's obvious that this return heralds the arrival of a new technical approach in the LMP1 category," he said.
"We're already working on the 2014 regulations, and Porsche will be one of the major participants in these discussions. Its contribution to our talks can only be of capital importance given this company's past, and the immense experience it has accumulated in endurance racing.
"We're very happy as not only will we have an additional make in LMP1, but also a manufacturer ready to explore new technological avenues."