Colin Kolles set to step aside in Hispania team reshuffle
| | |
| --- | --- |
| By Jonathan Noble | Thursday, June 30th 2011, 15:27 GMT |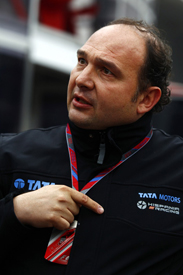 HRT is set to undertake a management reshuffle in the next few weeks, with team principal Colin Kolles poised to step aside to allow the owning Carabante family to take more direct control.
Kolles was drafted in at HRT on the eve of the 2010 season after the Carabantes' planned efforts with Adrian Campos failed - and he succeeded in pulling the team back from the brink to get it onto the grid for the opening race of the campaign.
Since then he has worked hard to put in place the infrastructure needed to move it forwards – with Geoff Willis having been put in charge of technical affairs, a team rebranding being done and a deal struck to use a Mercedes GP windtunnel.
Although progress is being made, it is understood that Kolles now wants to step back from the day-to-day running of the outfit.
It is believed that one scenario being considered is for team owner Jose Ramon Carabante or his son Jose to be made team principal, with Kolles working alongside him during a transition phase.
Speculation over the last week that Willis could become team principal is believed to be wide of the mark, although the Briton could take on a more senior role in the restructure.
Kolles will stay involved with the outfit, and it is likely that the team and the cars will continue to operate out of his Greding facilities in Germany until a deal is done for the Carabante operation to sort out the plans they have for a base in Spain.
It is not clear when the looming management changes will happen, but already Kolles is being strongly linked with a switch to Williams for 2012 – where he could be made team principal.
Kolles was unavailable for comment.