Major boost for Austin circuit as city council endorses United States GP
| | |
| --- | --- |
| By Edd Straw | Thursday, June 30th 2011, 08:55 GMT |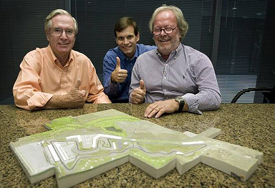 Next year's United States Grand Prix in Austin has been given a major boost by the city council officially endorsing the race.
The vote, which was passed 5-2, comes despite high-profile criticism of the cost of the event during the lengthy deliberation period. There were objections to the $25 million per year that the Texas government has promised organisers from its major events budget.
Kathie Tovo was one of the two council members to vote against the plans, saying that "I cannot support something that would [put] more than £250 million in state funding to fund a recreational activity."
But despite the vocal anti-race lobby it was felt that the financial benefit to the area outweighed any such expenditure, with fans and F1 workers each expected to spend over $700 per day while in Austin.
"I know why so many people have a hard time with an auto race," said councilor Chris Riley, who voted in favour. "But when thousands of people from around the world say they want to spend money in your community, you listen."
Ground work at the Circuit of the Americas is in its advance stages and organisers are confident that the track will be ready in time.
However, questions have been raised over the June 17 date that the race has been allocated for next year. Temperatures can climb above 40 degrees Celsius in June, which has led some to call for a switch of date.
AUTOSPORT understands that discussions are under way to switch the date to later in the season. This means that the United States Grand Prix could run as a back-to-back event twinned with Brazil in November.
The circuit, according to its officials, will be among the most technologically and environmentally advanced venues in the world.
Race organisers and a group of community environmentalists have devised a 54-point plan to position the track as the "greenest" sporting facility in the Americas.
The plan includes elements ranging from offsite transportation options and dedicated bicycle lane access to incorporation of a community garden area, water-conservation measures, and the planting of over 800 trees.