Sebastian Vettel says he 'completely happy' at Red Bull Racing
| | |
| --- | --- |
| By Pablo Elizalde | Wednesday, June 29th 2011, 15:24 GMT |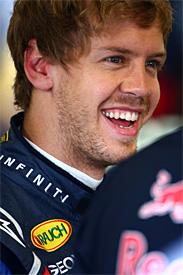 World champion Sebastian Vettel says he is "completely happy" at Red Bull Racing, admitting he is not into "myths" like Ferrari or Mercedes right now.
The German has been linked with Ferrari several times, but he claims he is perfectly happy at Red Bull because it is providing him with a car to win races.
"Let's get this straight. To win races is not easy; to win championships even less so - at whatever team," Vettel told Formula 1's official website.
"I feel completely happy at Red Bull. Of course Ferrari and Mercedes do come with a huge legend, but I am not into myth right now.
"What's important for me is that when I come from the track and look in the mirror in my hotel room I want to be able to say, 'yes, that's me and I am satisfied with what I see'.
"After Abu Dhabi it feels good to know that I don't have anything to prove to myself any more."
Vettel also admitted he is not too worried about his possible future team-mates, as he is aware that he needs to beat everybody to be the best.
"In the end I don't waste too many thoughts on who is my team-mate," he said in a joint interview with Formula 1 supremo Bernie Ecclestone.
"I want to be the best so I have to beat them all, with the same car or any other. I would never ask my team to get me a team-mate to my liking, but I expect two things from whoever has the second cockpit: honesty and respect."
Vettel has won six out out eight races this season and is currently leading the championship by 77 points, having also secured seven pole positions.
Ecclestone said Vettel's dominance of the sport is no turn-off for the spectators, as they tune in to see if someone can beat him.
"Sebastian is in a similar position as Michael (Schumacher). Sebastian is the best right now and that's why he is dominating, and that's what makes it so interesting for the fans, because every race weekend starts with a big question mark - who will be able to beat Vettel? That's why fans tune in."