Pirelli chooses hard and soft tyre compounds for the British GP
| | |
| --- | --- |
| | Wednesday, June 29th 2011, 11:21 GMT |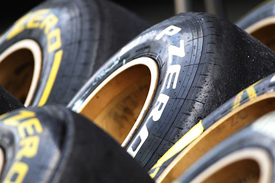 Pirelli has announced that it will take its soft and hard compounds to the British Grand Prix weekend, despite Ferrari's admitting its chances will be hurt with the use of the latter.
Pirelli's decision means teams will be using the same tyres ran at the Spanish Grand Prix, where Ferrari's drivers finished a lap down as they struggled with the hard tyres, despite Fernando Alonso leading the race while running with the softs.
Team-mate Felipe Massa had admitted before the Pirelli decision that his team would be in trouble if the Italian manufacturer opted for the harder tyres for Silverstone.
"I am not so optimistic with which tyres we are going to have there, because I have heard that maybe we are going to have medium and hard," said Massa.
"If we have that, it can be a problem for us - not just for us but for most of the teams maybe taking away Red Bull or even McLaren."
Pirelli said it would not be pressured into favouring one team over a rival when making the decision.
"Our nominations are designed to maximise the opportunities for strategy and find the right compromise between performance and durability," said Paul Hembery. "For Silverstone, we are confirming the decision we took a few weeks ago, after once more consulting all the teams, and for the next two races we have arrived at what we feel to be the best solution based on the information that we have so far.
"As has been the case up to now this year, we think that there will be quite a wide variety of different strategies for the next three grands prix, but for all the races it's reasonably hard to predict how many pitstops there will be: it ultimately depends on the strategy and strengths of each individual car and team."