Dan Gurney: Progress on DeltaWing Le Mans project already being made
| | |
| --- | --- |
| By Sam Tremayne and Simon Strang | Tuesday, June 28th 2011, 16:18 GMT |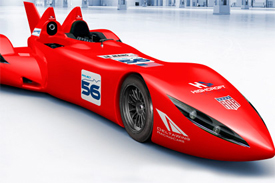 American motorsport legend Dan Gurney believes the DeltaWing concept will prove itself after gaining the 56th entry to next year's Le Mans 24 Hours, and that progress is already being made on the project.
Gurney's All American Racers concern is building the prototype, which was originally designed by Ben Bowlby to be used in the new 2012 IndyCar package. It will be run by ALMS-championship winning team Highcroft Racing in next year's event.
"We've had a very productive time last week with Ben and Duncan here with us at AAR and we were able to make some great progress with the car's design details," he said.
"The entire Project 56 programme has hit the ground running. There are a lot of people involved in the project but we all have a tremendous passion for making this happen.
"It really has become a very cohesive group. We have a large group of very talented people involved but everyone is working very well together."
Gurney hopes the car could have a similar impact to the revolution created by the introduction of rear-engined machines to the sport in the 1960s.
Having championed that transition at the Indianapolis 500 by helping to create the Lotus-Ford alliance - for which he drove alongside Jim Clark – Gurney believes the DeltaWing may prove itself as a viable alternative to electric cars when it races at Le Mans next year.
"I was racing in Europe quite a lot in the late 50s/early 60s and had seen the end of the front-engine Formula 1 era and the transition to the rear-engined car," Gurney explained.
"If we are able to demonstrate similar performance and efficiency with the DeltaWing that we did with the Ford MK-IV it would certainly be a great achievement. If our initial predictions for the performance of the DeltaWing are correct there is a possibility we may achieve something pretty similar.
"The Autombile Club de l'Ouest should certainly be applauded and congratulated for having the foresight and wisdom to come up with the 56th garage. It's the key to us having this opportunity and we are certainly very appreciative for being selected.
"There is a huge effort towards things like electrical cars which is very attractive to our political leaders and obviously attracts a lot of financial support and subsidies.
"Efficiencies however, are not only available through electric powered vehicles. In the case of the DeltaWing, the shape of the car, the weight, the efficiencies, the technology – you have a car which remains an extremely viable option.
"That part I like a lot and I am very proud to be a part of this project as I believe the principles of the DeltaWing can also inspire the type of cars we drive on the road in the future."