Massa: Hard tyres for Silverstone would jeopardise Ferrari's surge
| | |
| --- | --- |
| By Jonathan Noble | Monday, June 27th 2011, 08:32 GMT |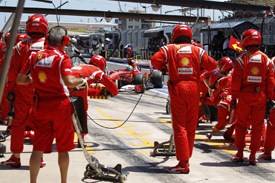 Felipe Massa believes Ferrari's ever-improving challenge against Red Bull Racing could be stalled at the British Grand Prix if Pirelli elects to take its hard tyre to that event.
A raft of upgrades to the 2011 Ferrari has helped the team close the gap to pacesetter Red Bull Racing, and it is keeping its fingers crossed that developments for Silverstone will help it do even better.
However, Massa reckons that the struggles Ferrari had earlier this year at races where Pirelli's hard tyre was used could be repeated if Pirelli chooses to take the conservative option for the next round for the championship.
When asked by AUTOSPORT about his feelings on Ferrari making further progress to close down Red Bull Racing, Massa said: "Well I am optimistic with the new parts we are going to try to bring to Silverstone. However, I am not so optimistic with which tyres we are going to have there, because I have heard that maybe we are going to have medium and hard.
"If we have that, it can be a problem for us - not just for us but for most of the teams maybe taking away Red Bull or even McLaren."
Ferrari team principal Stefano Domenicali said it was clear that the team would be in favour of Pirelli opting to bring the soft and the medium compound to Silverstone – with a final decision on the matter due in the next 24 hours.
"I think that if you look at our pace with the softer tyres you can see that our car always performs better with them," he said.