Rule changes not stopping Vettel's pole position run
| | |
| --- | --- |
| By Jonathan Noble and Pablo Elizalde | Saturday, June 25th 2011, 13:57 GMT |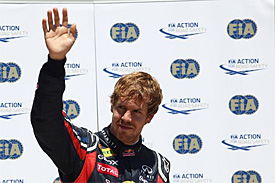 Sebastian Vettel insisted there was too much talk about how the rule changes would affect Red Bull's performance, after the team dominated yet another qualifying session.
Vettel secured his seventh pole in eight races as his team continued with its perfect record of top spots in qualifying this year.
That despite the FIA now not allowing teams to change their engine mappings between qualifying and the race.
"There has been a lot of talk but for us we never really understood why," said Vettel.
"We had to focus on what we have to do here, and that is it. We had a good qualifying session, generally a good build-up throughout the weekend, picking up steadily some pace and I felt more and more comfortable in the car, that was most important.
"It was nice today to sit here and have the front row for us, it is a good start for tomorrow, but it is a long race so we have to go from there."
The world champion believes there will be even more talk when the ban on off-throttle diffusers is introduced at the British Grand Prix, but he doesn't believe it will affect Red Bull more than others.
"A lot of talk and we will have same sort of talk before the Silverstone GP again. We know what we do, surely it is a step back but it is the same for all of us, for some more and some less. For the car based on that concept, cars like Mercedes or Renault, they will I think feel it more than others."
The German also denied he was unemotional about scoring yet another pole position.
"I think that is wrong. It was a little bit odd because I stopped the lap early, came in and had to focus I do everything right and stop the car, I was waiting for the call and I had to switch off the car, so I didn't have a lot of time. I just had congratulations to them.
"It depends a little bit the moment, if you are cruising circuit and have time to talk you give a bit more room to celebrate. I knew in the second run that obviously I was a little bit quicker but not much, I wanted to save lap on tyres, came in and I didn't know, Mark improved and so on, but I was already stopped on parc ferme and didn't know."
Team-mate Mark Webber, second today, also made it clear he was never expecting the team's performance to be affected.
"We have said it enough, we came here and didn't expect any difference. You guys wrote a lot, some others spoke a lot, maybe some in our team, who technically were not on top of things."