| | |
| --- | --- |
| Dorna extends MotoGP commercial rights deal through 2016 | |
| | |
| --- | --- |
| | Saturday, June 25th 2011, 09:47 GMT |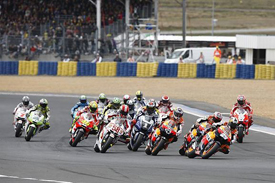 Dorna has signed a five-year extension of its commercial rights deal with MotoGP, taking the partnership through to the end of 2016.
The organisation has held the rights to the motorcycle world championship since 1992.
Tech 3 team boss Herve Poncharal, head of teams' body IRTA, praised the contribution Dorna has made to the sport so far.
"Dorna has been a fantastic partner for IRTA for the last 20 years," he said. "They have constantly sought to improve the appeal of our sport via outstanding television coverage throughout the world. They have also taken us to new circuits in different continents and we now have a truly global audience to offer to our sponsors.
"Most importantly, Dorna has supported us and the riders by putting safety before any other matter, to the extent that considerations of the safety of the competitors is never compromised by commercial issues.
"I believe that IRTA has made its contribution to this development by delivering to Dorna the very best teams and riders to participate in the premier world championship.
"In turn, our teams have risen to the occasion by improving their professionalism and presentation so that today the MotoGP paddock sets standards for every other motorsport. It is an environment which we can be proud to invite our sponsors to visit."
Dorna boss Carmelo Ezpeleta said he was looking forward to leading MotoGP into its new 1000cc era from next year.
"We're pleased to renew our collaboration with IRTA for five years from 2012 as we'll be entering a new era of the MotoGP World Championship," he said.
"We're now building the future of the sport alongside the Teams' Association and we are committed to ensuring a successful switch together to a new formula next year for the MotoGP class and also to emulate the success of the Moto2 class with the introduction of Moto3 as a replacement of the 125 series.
"With the support of IRTA we'll also be looking at expanding the horizons of the sport so our close relationship will be instrumental in tackling new challenges in the five next years. We've been doing a great job together over the past 20 years and we're looking forward to continuing a strong relationship."