Allan McNish raring to go for Imola after shaking off Le Mans crash effects
| | |
| --- | --- |
| By Simon Strang | Friday, June 24th 2011, 15:41 GMT |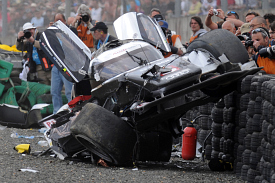 Allan McNish says he is raring to go ahead of the fourth round of the Intercontinental Le Mans Cup at Imola next weekend, having completed a trouble-free test in Germany following his crash at Le Mans.
The Scot and his Audi team-mate Mike Rockenfeller were involved in huge accidents during the 24-hour race. Although neither driver was seriously injured, McNish underwent a number of medical checks before getting back behind the wheel of an R18 TDI earlier this week.
"I had all my medical checks and had some more over the weekend, so all looks okay," he told AUTOSPORT. "Body-wise I'm fine, it's just a case of me having basically been in a washing machine for about four seconds. It throws things a wee bit out of balance but everything is fine.
"It [the test] was a little run just to make sure everything was fine. It was an R18. It was for two things; obviously for me to get a run in the car after Le Mans, and to make sure that everything was okay. I had the medical checks and things and also the doctors were there, so it was just to make sure and to get a feeling back in the car."
McNish said that he had no problems getting back in the car after his crash: "I never even had concussion. It was just a case of me being thrown around a little bit. So I had a week of rest just to let that settle down, which it has.
"It was good to get back in the car, it was nice to get a feel for it and get back on the pace. Also to feel what the car probably will be like, which I think will be very good."
Audi has built up two brand new R18s - complete with an unraced high downforce package - for Imola after losing its entire active fleet during Le Mans. The triumphant #2 car has now been retired for display duty, as is often the case with the winning 24 Hours machine, while both the #1 and #3 chassis were destroyed in the accidents.
"We've built up two new cars for Imola and will be driving with an aerodynamics variant designed for higher downforce for the first time," said head of Audi Sport Dr Wolfgang Ullrich.
"I'm very eager to see where we'll stand with that compared to the competition because our friends from Peugeot will do everything to take revenge for the defeat at Le Mans."
McNish said that he had been impressed with the potential of the new package when he drove it in testing.
"It felt nice and balanced with good grip and everything else," he said. "Overall from where we are it looks like it will be a good car.
"When you have had a bad race, and I'm talking about me personally and not Audi on this one, then you want to get back in straight away. Just to put it totally in the past and that is the same for me and for [his co-driver] Tom [Kristensen] as well. Obviously he didn't get any result at Le Mans either."