McLaren duo struggling with Pirelli's medium tyres in Valencia
| | |
| --- | --- |
| By Pablo Elizalde | Friday, June 24th 2011, 15:09 GMT |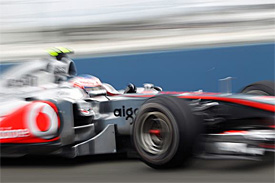 McLaren drivers Jenson Button and Lewis Hamilton admitted they were struggling to make the medium tyres work properly during practice for the European Grand Prix.
Pirelli's medium tyres are making their racing debut this weekend, and Button admitted the rubber felt to be too hard for the Valencia circuit.
"On the softer tyre the balance is pretty good, we are getting there," said Button, sixth quickest today. "But on the harder tyre we still have to do more work. They are very different tyres and they work in a very different way, so it's a bit tricky.
"But we have a lot of time and hopefully we'll improve the set-up for tomorrow. I think we know what we have to do, which is good."
He added: "This afternoon on the harder of the two tyres there was very little grip, with massive oversteer, big understeer. And then you put the soft tyre and it's a completely different balance, so it's difficult to get both tyres working with the same set-up.
"It does feel like the medium tyre is too hard for this circuit. Let's just hope the circuit improves tomorrow and we'll be a little bit more competitive on it."
Team-mate Hamilton, second fastest behind Fernando Alonso, also conceded it was hard to find the right balance with the harder tyres.
But the Briton is adamant that McLaren will be in the mix for the top spots nonetheless.
"It's been an interesting day," he said. "We bought the new medium tyre here which has been pretty difficult to use. I guess the Red Bulls and the Ferraris were able to do it, but we were struggling with that. But once we put on the option tyre we see that we have very decent pace.
"But there's still improvement that we can make with the car. It looks very tight in the front, but we are definitely in the fight."