Pic leads all-Addax front row
| | |
| --- | --- |
| By Glenn Freeman | Friday, June 24th 2011, 14:40 GMT |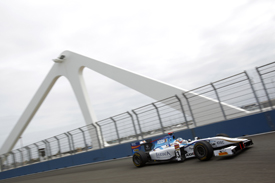 Charles Pic will lead an all-Addax front row for the Spanish team's home race after he narrowly beat Giedo van der Garde to pole position for the main race.
The Frenchman jumped from third to first with just two minutes of the session remaining to rob van der Garde of the top spot - and take the points lead thanks to the pole bonus. Then with just one minute to go, championship leader Romain Grosjean (DAMS) crashed at Turn 5, bringing out the red flags.
Grosjean finished the session as best of the rest in third, while Luca Filippi took fourth for Super Nova thanks to a strong lap he set early on.
Reigning GP3 champion Esteban Gutierrez had his best qualifying of the year as he took fifth place, and the ART driver will share the third row with iSport's Sam Bird.
Dani Clos (Racing Engineering) and Davide Valsecchi (AirAsia) were next up, while free practice pacesetter Jules Bianchi could only take ninth for ART. The Frenchman had been on course for pole with a lap he was on with just four minutes remaining, but he aborted as it fell away in the middle sector.
He had already been one of several drivers to have a first hot lap on fresh tyres ruined earlier in qualifying, when Johnny Cecotto Jr spun and brought out the red flags with nine minutes to go.
Pos  Driver              Team                Time       Gap
 1.  Charles Pic         Addax               1m46.675s
 2.  Giedo van der Garde Addax               1m46.727s  + 0.052s
 3.  Romain Grosjean     DAMS                1m46.771s  + 0.096s
 4.  Luca Filippi        Super Nova          1m46.953s  + 0.278s
 5.  Esteban Gutierrez   ART                 1m46.995s  + 0.320s
 6.  Sam Bird            iSport              1m47.016s  + 0.341s
 7.  Dani Clos           Racing Engineering  1m47.041s  + 0.366s
 8.  Davide Valsecchi    AirAsia             1m47.129s  + 0.454s
 9.  Jules Bianchi       ART                 1m47.337s  + 0.662s
10.  Marcus Ericsson     iSport              1m47.417s  + 0.742s
11.  Luiz Razia          AirAsia             1m47.418s  + 0.743s
12.  Max Chilton         Carlin              1m47.451s  + 0.776s
13.  Alvaro Parente      Carlin              1m47.752s  + 1.077s
14.  Pal Varhaug         DAMS                1m47.802s  + 1.127s
15.  Christian Vietoris  Racing Engineering  1m47.875s  + 1.200s
16.  Stefano Coletti     Trident             1m47.963s  + 1.288s
17.  Jolyon Palmer       Arden               1m48.032s  + 1.357s
18.  Michael Herck       Coloni              1m48.056s  + 1.381s
19.  Fabio Leimer        Rapax               1m48.234s  + 1.559s
20.  Johnny Cecotto Jr   Ocean               1m48.337s  + 1.662s
21.  Fairuz Fauzy        Super Nova          1m48.527s  + 1.852s
22.  Josef Kral          Arden               1m48.601s  + 1.926s
23.  Kevin Ceccon        Coloni              1m48.631s  + 1.956s
24.  Rodolfo Gonzalez    Trident             1m48.716s  + 2.041s
25.  Julian Leal         Rapax               1m48.768s  + 2.093s
26.  Kevin Mirocha       Ocean               1m48.972s  + 2.297s