Button: We must keep pressure on RBR
| | |
| --- | --- |
| By Jonathan Noble | Friday, June 24th 2011, 10:06 GMT |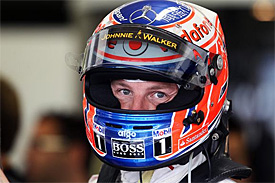 Jenson Button says it is essential that McLaren keeps piling the pressure on Red Bull Racing - because he thinks its rivals are vulnerable to making mistakes when the heat is on.
Although Vettel has a healthy 60 points advantage at the head of the championship after winning five out of the seven races held so far this year, Button is not despondent about prospects for the remainder of the campaign.
And he thinks the fact that Red Bull Racing made an error in Monaco at the first round of pitstops, and then Sebastian Vettel tripped up on the final lap in Montreal, shows that the reigning champions do have an Achilles Heel.
Reflecting on his recent strong form in Monaco and Canada, Button said: "It doesn't change my confidence in my driving or my confidence in the team.
"But one thing it does is it does make me smile, because it shows that if we put them under pressure then maybe they will make mistakes. And at this moment of the season that is exactly what we have got to do.
"I felt we got very unlucky in Monaco after leading for so many laps and having such good pace that we didn't win the race. But I think we got repaid for that in Montreal: we got a bit of luck at the end of the race if you can call it luck, and we got the victory.
"We have to keep putting them under pressure. They had their issues in the pit stop in Monaco a couple of times, putting the wrong tyres on the car, and then Sebastian running wide on the last lap of the race [in Canada].
"So we have to keep doing that, keep putting them under pressure, because if we don't then they are invincible. They are so fast and Sebastian is doing such a good job that if we don't force them into mistakes then it is going to be very difficult to beat them this year."
Button is unsure what impact the changes to the engine mapping rules, and forthcoming blown diffuser clampdown, will have on the competitive order - although he hopes it allows McLaren to get closer to Red Bull Racing in qualifying at least.
"I think we are all going to be hurt by the engine mapping rule. I think that it will make a big difference to us in qualifying, but I think it will be a bigger difference for Red Bull," he said.
"If you look at their pace in qualifying compared to their race pace it is very different, so I am hoping they are going to have more issues than we are in qualifying. I still think that they will be quicker than us, but I hope we can get closer in qualifying so we can fight them in the race."