Loeb frustrated by team's tactics
| | |
| --- | --- |
| By Matt Beer | Monday, June 20th 2011, 13:24 GMT |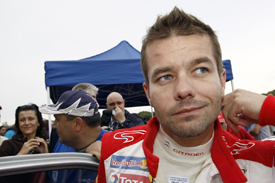 Sebastien Loeb has admitted he was frustrated with Citroen's handling of his battle with team-mate Sebastien Ogier on the Acropolis Rally.
After five years of superiority over previous team-mate Dani Sordo, Loeb has equal number one status with Ogier at Citroen this year and is fighting both his team-mate and Ford's Mikko Hirvonen for the title.
In Greece last weekend, Ogier and Loeb moved into first and second on Saturday, but Ogier then backed off on the final stage of the day to put Loeb ahead and ensure the reigning champion ran first on the road for Sunday.
Ogier was then able to take advantage of better stage conditions to retake the lead and claim victory.
Asked if he was frustrated that his team-mate had been able to use slowing tactics against him, Loeb replied: "I was, [on Saturday] evening. I knew it would be some tactics and I knew it would be no issue for me.
"Finally, there were no split times [from Ogier] in the last stage. With no splits, the team give him the target time.
"So I asked: 'Why do you give him the benefit and not me?' They knew he wouldn't get his five seconds - he wanted 20 to stay ahead.
"At that moment, I was frustrated; I didn't want to clean the road just in front of him. When you see the team playing tactics nearly against me..."
But Loeb admitted that the team had agreed both drivers could use tactics as they wished, even if it meant compromising their team-mate.
"It's what we agreed before," he said. "If I had been in the position, it would have been the same for me. We know it's the rule.
"For me, it's no team orders; each driver plays his tactics when he wants. If you lead the championship you cannot do it, but if you are behind you have the cards and it is okay. He has done it right."
Citroen boss Olivier Quesnel said the team was committed to giving Loeb and Ogier equal opportunities, and that the situation only unfolded as it had on Saturday night because Loeb had been ahead of Ogier in the running order so the latter could judge his pace compared to his team-mate's.
"The drivers are equal number one so they know they can push," said Quesnel. "What we did for Sebastien Ogier, we would have done exactly the same for Sebastien Loeb. They know the car is the same. We want this to be transparent for everybody, the media and the fans."
Ogier's victory in Greece brought him to within five points of second-placed Hirvonen in the standings - but he said catching the Ford driver was of little consequence as his sights were firmly set on leader Loeb, he is 22 points ahead of him.
"It's looking, not good, but not so bad. It's better than before we started," said Ogier. "We are 22 behind Seb. Yes, we are closer to Mikko, but Mikko is not the target. We will continue to put the pressure on them."
This week's AUTOSPORT magazine - available in shops and in digital form from Thursday 23 June - contains an in-depth analysis of the intra-team tension at Citroen and Loeb's frustration with the situation.