Q & A: Kristensen on his DTM return
| | |
| --- | --- |
| By Jamie O'Leary | Saturday, June 18th 2011, 18:31 GMT |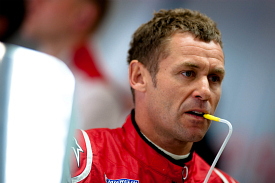 Tom Kristensen is making a one-off return to the DTM at Lausitz this weekend while regular Abt Audi driver Mike Rockenfeller rests after his horrifying Le Mans 24 Hours accident last week.
The veteran Dane impressed everyone by breaking a two-year lay-off from the series to go quickest in Friday practice at the German circuit.
After qualifying seventh on the grid, AUTOSPORT caught up with the eight-time Le Mans winner for a chat.
Q: Were you surprised to get the call to race at Lausitz?
Tom Kristensen: Very. I haven't even been home since Le Mans, and I was in the simulator on Wednesday when I got a message saying I needed to speak to [head of Audi Sport] Dr [Wolfgang] Ullrich. He asked me if I'd be able to do something different this weekend if he needed me to. First you think 'maybe, maybe not,' but you say yes straight away because it is an honour to be asked. Le Mans was a difficult situation seeing the crash for Rocky and we were all very happy that neither he, nor Allan [McNish], nor any of the spectators or marshals, were hurt in the big crashes, and the next day [Thursday] I had a text to say that Rocky was not doing this race.
Q: Was it all a bit rushed then?
TK: I arrived here at Lausitz at 7:45am on Friday to do the seatbelt fitting, and I have got an old DTM helmet to use too. If it had been up to me, I wouldn't have chosen this track for my return; it's a nice facility, but the circuit is a pain because you are constantly trying not to over-drive the car. It's nice to see the faces in the paddock though - some of them a bit older than before - because I've not driven a DTM car since I parked my Audi at the end of the 2009 season finale. It's nice to be back.
Q: It's the same car that you drove in '09 though. Only the tyres have changed...
TK: My big concern was how to get on with the Hankook tyres, but the car feels different too - it was Martin Tomczyk's car when I drove.
Q: Was it a surprise to be fastest in Friday practice?
TK: It was Christmas coming early, but I pushed hard for it. The new tyres were pretty good on the short runs and I thought I was the only one using them. I checked and in fact, 18 drivers had done the same thing, so I was fastest fair and square. I felt more was possible in qualifying than seventh, but when you speak to the drivers here, they tell you that finding the last half a tenth is very difficult.
Q: How was qualifying - and your trip through the gravel – for you?
TK: In Q2 I was really happy, but then I arrived at Turn 9 pretty close to [Edoardo] Mortara. I was three tenths up on my lap at the time, but there was a little bit of fine gravel at the corner, so I locked up and didn't want to hit Mortara, so I went into the gravel. When I heard that my time was still good enough for Q3 I was very pleased, but in Q3 I just couldn't get the grip from the tyres. I had too much bouncing into Turn 1, which compromised the lap. The second lap was okay, but there was too much oversteer for anything better than seventh.
Q: Are you allowed to win this weekend?
TK: Of course, but that's not my aim. It would be nice if someone will tell Dr Ullrich that to choose the old guy from Denmark to stand in for Rocky was a good idea. That's why I'm here. I'm not here to get a drive or do anything. Of course I will try and do my best for Audi, but I don't want to take points away from Audi drivers who are fighting for the championship.
Q: What's a realistic aim for the race?
TK: I don't think I'll know until after the warm-up. I don't have the experience with the Hankooks, and what experience gives you is how to be quick and consistent over a long run. I don't know if I'll be hitting the sweet spot with them. Many drivers here can do it with one set, but not another, so we'll see. The weekend has gone pretty well so far, so I'll just see what I can do.
Q: If the need arises, could you continue to substitute at the next race at the Norisring in place of Rockenfeller?
TK: No. It clashes with the ILMC race at Imola, so I will be at Imola. That's where my contract is.