Q & A: Solberg's co-driver on Greece
| | |
| --- | --- |
| By David Evans | Saturday, June 18th 2011, 07:47 GMT |
After his finest day in the World Rally Championship so far, Chris Patterson tells AUTOSPORT about how he and Petter Solberg made their way to the front of the field on the Acropolis Rally.
Q. What was the plan yesterday morning?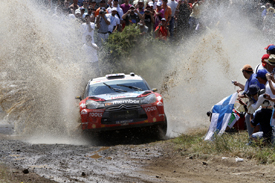 Chris Patterson: We headed off yesterday morning pretty relaxed about the whole thing. We got our heads down and just got on with the business. We knew what we had to do and, you know, we are fed up with all these games everybody's been playing. We knew we had to build a lead, so we just pushed.
Q. Your time on Elatia took everybody by surprise...
CP: We knew that the second stage was key to the day and we had a really good neat and tidy run through it. There were a few small silly mistakes, but these things happen whenever you're pushing like that. We were pretty pleased when we got to the end and saw we were 20 seconds quicker than anybody.
Q. Did you give Petter the splits through the stage?
CP: We knew the splits, but we took a lot in the last section of the stage. We thought we were only 10 or 11 [seconds] ahead and then we thought we'd actually dropped a wee bit on the final split. But then we took another eight or nine seconds.
Q. Were you surprised to see Mikko Hirvonen and Sebastien Ogier slowing down and giving you more time?
CP: Actually, we were surprised. But that's their game and we're not going to play that game - we're just going flat out.
Q. Was it almost a bit of a relief to decide that your tactic involved no tactics?
CP: Total relief. We'll know on Sunday if this is the right thing to do, but yesterday we had a very good day.
Q. Sebastien Loeb says you are uncatchable...
CP: Hey, this is one tough rally. You can never underestimate these roads. Today is going to be an extremely tough day and then there's the night stage tonight as well. And then tomorrow we've got to go back up that hill that we came down last night, when the powerstage uses the last part of SS6 going in the opposite direction. There will be rocks all over the place and the road will be in quite a mess - and we'll be cleaning that road. We know we're going to lose time.
Q. How bad do you think the cleaning will be?
CP: We've got three stages to clean and then it's the second pass. Then, tomorrow night, we'll be cleaning the night stage.
Q. You have got to clean the night stage, but equally there could be a bit of a dust problem behind you...
CP: Yeah, I think we've got to weave a lot on the straights just to try and kick up even more dust...