Ford investigates transmission issue
| | |
| --- | --- |
| By David Evans | Friday, June 17th 2011, 18:36 GMT |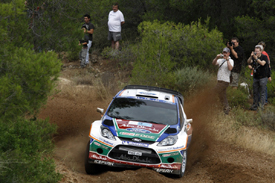 The Ford team is investigating the transmission problem which hit Jari-Matti Latvala's Fiesta RS WRC on the Acropolis Rally, after team-mate Mikko Hirvonen complained of a similar problem at the end of day one.
Latvala's car is believed to have suffered a front differential failure on today's final stage, dropping him from second to eighth place. Hirvonen admitted the handling of his car had given him cause for concern in the final two stages of the day as well.
Hirvonen said: "The car felt a bit strange. We had a lot of understeer in the last two stages, there's a lot of tyre wear - the car has been quite inconsistent. I don't know what it is, but we lost time in the last two stages."
Ford team director Malcolm Wilson said they were looking at both cars to see if there was a common problem.
"We've been discussing this [the potential for a common problem], we've been looking at the data," said Wilson. "Mikko's data is showing nothing untoward at all. Mikko's not sure what the problem is. We'll look at Jari's car first and decide from there."
It is possible both cars will undergo a complete transmission change at tonight's service.
There had been confusion at the state of Latvala's tyres following the stage - as despite having no drive to the front, the Michelins were completely worn when he arrived at the end of the test.
Wilson explained: "We've seen this before. When you have no drive at the front, you do all the wear under braking and that's what's happened here."
Hirvonen lost third to Sebastien Ogier on the penultimate test and then slowed down on the final stage to force Sebastien Loeb ahead of him on the road in SS6, with Ogier falling behind them both in fourth as he backed off to get a better Saturday road position.
Despite dropping from second to eighth place, Latvala says he will still chase a podium finish in Greece.
"I will push and see what we can do," said the Finn. "Two years ago I fought back and made the podium, it's harder this time - maybe the top six is more realistic, but I am aiming for the podium."