McLaren 'vindicated' by Montreal win
| | |
| --- | --- |
| By Matt Beer | Friday, June 17th 2011, 16:46 GMT |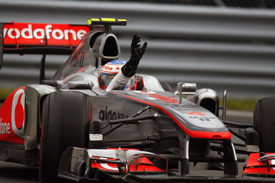 McLaren team boss Martin Whitmarsh believes Jenson Button's Canadian Grand Prix proves the outfit's upgrade push is paying dividends.
The Woking squad is the only one to have defeated Red Bull Racing's Sebastian Vettel in a grand prix this year, and after Lewis Hamilton's comments earlier this week that he would see no reason to leave McLaren if its car was sufficiently competitive, Whitmarsh said the Montreal result was a vindication of the team's technical capability.
"Jenson's fantastic last-to-first result in Canada last weekend proved beyond doubt that, as a team, we never give up," he said.
"That victory was a great fillip for the entire organisation and shows that our tireless efforts to bring constant upgrades to the track are really paying off.
"As a team, it's particularly satisfying that our upgrade 'hit-rate' has been successful and that we've really been able to translate the results we've seen at the factory into concrete performance at the track. Again, that's the result of good teamwork, and is what will successfully carry us through this championship fight."
He added: "We're now into the heart of the season and need to ensure that we're regularly delivering performance to the car. We've shown time and time again that this is one of Vodafone McLaren Mercedes' key strengths and I'm confident we can continue to deliver. For Valencia and beyond, our aim is clear: we want to win."
Button agreed that the Canadian GP triumph was well-timed and would give the McLaren crew greater confidence going into the remainder of the season.
"I wouldn't say that winning in Montreal has given me extra motivation, because I was already totally committed, but I think it will help to sharpen the focus and conviction of everyone in the team," he suggested. "We've proved we can challenge and beat Sebastian, and we know we can fight for this world championship."
But Whitmarsh cautioned that despite events in Canada, McLaren would still go to Spain expecting Red Bull to be tough to beat.
"I think we go into the weekend feeling encouraged and motivated by our performance, but still realistic that Red Bull remains the pacesetter - particularly in qualifying," he said.
Button's team-mate Lewis Hamilton said his aim for Valencia was to get his season back on course after the disruption of his incident-packed and controversial races in Monte Carlo and Montreal.
"For me, Valencia will be a weekend of consolidation after two disappointing results in Monaco and Canada," said Hamilton, who was penalised for two collisions in Monaco and retired with damage from a collision with Button in Montreal.
"Those two races were particularly frustrating for me because we showed we had the pace to win both of them, yet I only came away with eight points.
"We've arguably had the fastest race car in the last three races, and that's really encouraging because I know that, when it's put to best use, I should be able to finish at the front."