Name row not deterring Group Lotus
| | |
| --- | --- |
| By Jonathan Noble | Friday, June 17th 2011, 16:28 GMT |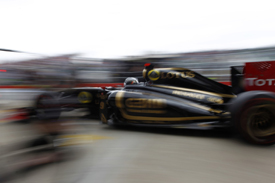 Group Lotus CEO Dany Bahar says his company's commitment to a future in Formula 1 is as strong as ever, despite the controversy of its involvement in a naming row and mixed results on track with Renault.
The British sportscar manufacturer decided to give its backing to the Renault team as part of an ambitious motorsport programme launched this year - but its hopes of challenging for victory were dealt a blow pre-season when Robert Kubica was injured in a rally accident.
Group Lotus has also faced a much-publicised court showdown with Team Lotus over the use of the name in F1 – with the appeal process set to start next week as it makes a fresh attempt to prevent its rival from using the moniker.
However, despite those difficulties, Bahar said on Friday that F1 was working well for his company and delivering exactly the kind of brand exposure that he had hoped for.
"I think for us the association with F1 is two-fold," said Bahar, when asked by AUTOSPORT for his verdict on the success of F1 for Lotus. "First of all it gives us the brand awareness that we want Lotus to get. It is the most efficient way to get it, and the quickest way to get it.
"On the other hand we have also established a technological partnership where we identify areas where we can incorporate their technology into our future cars. For us the partnership is very good, it is running very well and I hope it continues to be like that."
Although Team Lotus has been allowed to keep using the name in F1, Bahar insisted that the impact of the recent High Court decision did not detract from his company's plans in F1.
"No, not at all. It is about branding, the branding of our Lotus brand, and it is about technology transfer. The naming issue is there unfortunately, but it doesn't really affect us."
Bahar has made no secret of the fact that one option for the future is for Renault to be renamed as Lotus, but he has ruled out that happening until 2013 at the earliest.
"We enjoy a very good relationship with our partners Genii [the Renault team's owner]," he said. "We are very much involved in their business and we are happy with how it is run, and as things are run and well managed there is no reason for us to do any more.
"We are very happy with the increased branding we have had since the Barcelona Grand Prix, and we are fine. Absolutely fine, as it is."
When asked about a future name change, Bahar said: "If we decide to go for the long term then renaming would be an issue, but at the moment it is out of the question so it is not something we are pursuing."
Bahar also made it clear that the current High Court ruling would not have any impact on what Group Lotus chose to do with the Renault name.
"I think the judgement made it clear that the Lotus name in F1 belongs to us, and the Team Lotus name belongs to Team Lotus," he said. "That is a clear judgement and nothing can stop us from using our name in F1."
Bahar added was also hopeful that Renault would deliver further progress on track to rediscover the form that helped it to two podium finishes at the start of the season.
"I think it [the season so far] has been very positive. Although the first two results made hunger for more success, however, the bottom line is that we have to be very happy with what the team achieved.
"It is a pity that only one car gets into the top 10, it would be better if we had two cars, but it shows the car has potential and the team is working hard to keep the pace with the development until the end of the year."