Q & A: Waltrip on Le Mans
| | |
| --- | --- |
| By Simon Strang | Friday, June 17th 2011, 13:40 GMT |
Two-time Daytona 500 winner and NASCAR Sprint Cup team owner Michael Waltrip made his Le Mans debut in an AF Corse-run Ferrari 458 last weekend.
The 48-year-old American admitted that it had been an eye-opening event, and one that he later described on his Twitter account as one of his top 13 life experiences. AUTOSPORT caught up with him in the garages after the race to get the lowdown on his Le Mans, and find out whether he had caught the bug enough to return in 12 months' time.
Q. Would you like to comment on your first experience of the Le Mans 24 Hours?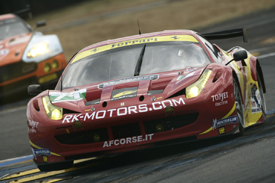 Michael Waltrip: It's just amazing. I came here a week ago and I had to do a bit of 'planes, trains and automobiles' to get here from Kansas where I covered a truck race for the Speed television channel. Then I had to make my way here in a hurry to get to scrutineering in the town square. And then all the way to the parade of Friday, and then of course now [post-race] it's just a sea of humanity. I've never seen so many people in one spot. I think it's really cool how everybody hangs around and celebrates.
Q. Does it not happen like that in the US?
MW: Yeah it does but sometimes when you race 38 weekends a year they become a little less thrilling. When you plan for an event for a year... it's like the Daytona 500. You look at an event like that, or you look at the Brickyard 400; those are a couple of races in NASCAR-land where all year long you think about having success in those events and so when it's over you are like 'yes!' and you celebrate and people appreciate it.
But here these guys, for a year this is all they have focused on and so the reward is great obviously. Then also the people are passionate about their cars, whether they are Audi fans or Peugeot fans, it's just really fun. It's different, but fun.
But what I learned most is that while it's an endurance race for the cars, it's a bunch of qualifying laps for the drivers. These guys, they are just hammer down - it's impressive.
Q. Do you think it was just as hard for you guys in the GTE class as it was for the drivers in the LMPs?
MW: I think it was harder for us than it was for those guys. When you are fast it's easier because you can make choices. You can choose to charge a guy or lay off of him and beat him into the next corner. When you are not in the fast cars, then you're sort of at their mercy.
Q. Will you come back?
MW: I would love to come back. Our event didn't turn like we had hoped, with Rob [Kauffman] having issues and then the transmission breaking. But we've proven at Spa last year, where we got a third place finish, that we are capable of doing this and doing it well so hopefully we can figure out how to do it some more.
Q. You picked a hell of an event to be involved in. It will probably go down in history as one of the greatest, and scariest, Le Mans. What's your feeling on what you have seen?
MW: Well just the speed is what I will remember the most. Let's break it down... they're running 300-and-something km/h on a two-lane country road through a town. Add all that s**t up and something is probably going to go wrong at some point.
The straight from Mulsanne to Indianapolis is not straight – it's got two pretty good kinks in it and when you are running 270km/h in a Ferrari you need some room. You've got to straighten those kinks out. We saw a couple of incidents, one early with [Allan] McNish and one unfortunately with Rocky [Mike Rockenfeller] and our car. But you know, it's racing, you're going to wreck and you are going to break a transmission every now and then. It's all part of it.