Waltrip hopes for Le Mans return
| | |
| --- | --- |
| By Simon Strang | Friday, June 17th 2011, 13:27 GMT |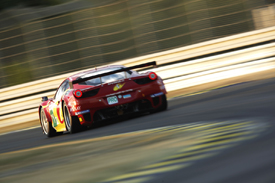 Two-time Daytona 500 winner Michael Waltrip says he would 'love' to return to the Le Mans 24 Hours after an eventful first outing at La Sarthe in a AF Corse-run Ferrari 458.
The 48-year-old American, who shared a GTE AM car with Portuguese driver Rui Aguas and rookie Robert Kauffman, was forced to retire from the race after 178 laps with a differential failure but described the experience as being like nothing he had seen before in racing.
"It's just amazing," he told AUTOSPORT. "I came here a week ago and I had to do a bit of planes, trains and automobiles to get here from Kansas where I covered the truck race on Speed. Then I had to make my way here in a hurry to get to scrutineering in the town square.
"And then all the way to the parade of Friday, and then of course now [post-race] it's just a sea of humanity. I've never seen so many people in one spot. I think it's really cool how everybody hangs around and celebrates."
The #71 Ferrari was involved in the incident that triggered Mike Rockenfeller's huge accident in the Audi just before midnight, and Kauffman who had been driving the car, was later disqualified for failing to react to blue flags 10 times during the race.
But while Waltrip admitted that the team had endured its tribulations over the weekend, he believed it could improve in future attempts.
"I would love to come back," he said. "Our event didn't turn out like we had hoped, with Rob having issues and then the transmission breaking. But we've proven at Spa last year, where we got a third place finish, that we are capable of doing this and doing it well so hopefully we can figure out how to do it some more.
Asked what he would remember most about the experience, Waltrip replied: "Well just the speed is what I will remember the most. Let's break it down... they're running 300-and-something km/h on a two-lane country road through a town. Add all that s**t up and something is probably going to go wrong at some point.
"The straight from Mulsanne to Indianapolis is not straight - it's got two pretty good kinks in it and when you are running 270km/h in a Ferrari you need some room. You've got to straighten those kinks out.
"We saw a couple of incidents, one early with [Allan] McNish and one unfortunately with Rocky [Mike Rockenfeller] and our car. But you know, it's racing, you're going to wreck and you are going to break a transmission every now and then. It's all part of it."