Solberg: I could have been faster
| | |
| --- | --- |
| By David Evans | Friday, June 17th 2011, 10:58 GMT |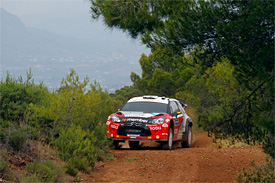 Citroen privateer Petter Solberg says he could have gone even faster through the opening morning of the Acropolis Rally, despite taking almost a second per mile out of his nearest rival through the second stage.
Solberg's time on the 24-mile Elatia test stunned the rest of the field as he opened up a 20.3-second lead over Ford driver Jari-Matti Latvala. The Norwegian said he had slowed after 10 miles when he thought he had a puncture.
"I hit something in the middle of the road," said the 2003 world champion. "I was sure it was going to be a puncture, but it was okay. The time wasn't bad, eh?"
Solberg admitted he was surprised he'd taken such a big gap.
"I wasn't pushing like mad," he said. "We were going hard, but the key here was in controlling the tyres. I was steady at the start of the stage, looking after the tyres. I got into a good rhythm in the stage, that was also really important. I'm pleased with that."
Running first on the road, Sebastien Loeb said he had expected to lose 20 seconds in the stage. Asked if he was impressed with Solberg, the Frenchman replied: "I thought this could happen. I am more surprised at the times from the other drivers, behind me - I thought they would be quicker."
Loeb's Citroen team completed a variety of checks on his DS3 WRC after an electrical scare at the end of Elatia, but could find nothing amiss with the number one car.