Hirvonen determined to raise game
| | |
| --- | --- |
| By David Evans | Wednesday, June 15th 2011, 08:46 GMT |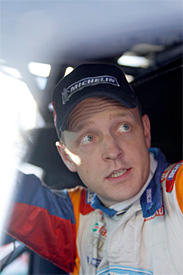 Ford driver Mikko Hirvonen says he is determined to up his game ahead of this week's Acropolis Rally, as Ford still searches for its first gravel win in the Fiesta RS WRC.
Hirvonen won the opening round of this year's world championship with a confident drive to victory on the Swedish Rally, but since then, Citroen drivers Sebastien Loeb and Sebastien Ogier have secured the top step of the podium on the following five rounds of the WRC.
Despite admitting to a lacklustre performance last time out in Argentina, Hirvonen remains just 13 points adrift of Loeb's championship lead.
"I didn't get the best out of myself in Argentina," said Hirvonen. "On the asphalt sections, it was really tough. I was really bad there. I've got to get a grip of myself in Greece, find the speed and stay consistent.
"Of course, it is possible to beat Citroen, for the last three races, Jari-Matti [Latvala, team-mate] has been really close with them. I was happy with my speed on the last day in Argentina, but I have to find that all of the time now.
"I am still well in with the championship fight. Everything is still open, but we have to start beating [Sebastien] Loeb and Citroen."
Hirvonen, who won the last Acropolis Rally in 2009, said his Greek test had gone well prior to the event.
"Nothing broke at all on the car," he said. "The team is well known for building strong rally cars and I think the Fiesta is the same. On the test, I was a little bit worried, thinking: "I hope we haven't been lucky here," but it's not that, I believe the car is strong enough."
Loeb admitted he had been baffled by Hirvonen's hot and cold performances this year, saying: "It's difficult to understand [Hirvonen], sometimes. He is able do some very good times, so he is still going very fast and he is very close to me in the championship, so he is one of my rivals."
Hirvonen's last win on gravel was Rally Australia in 2009. He has, however, finished second to Loeb three times this season - and failed to finish lower than fourth on all six 2011 events.