Gordon wins at Pocono
| | |
| --- | --- |
| By Diego Mejia | Sunday, June 12th 2011, 22:55 GMT |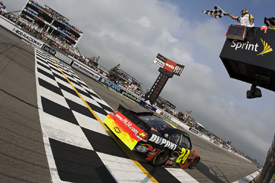 Jeff Gordon claimed his second win of the season and 84th of his NASCAR Sprint Cup Series career on Sunday at Pocono Raceway.
The four-time champion claimed a record-matching fifth win at the 2.5-mile triangle, which also ties him for third in the all-time Cup race winners list with NASCAR legends Bobby Allison and Darrell Waltrip, leaving him behind only Dale Earnhardt and Richard Petty.
Gordon was not dominant but had the pace to race among the top five throughout, as he grabbed the lead for good on the final restart from Earnhardt Ganassi's Juan Pablo Montoya, who had been a contender for victory and led a good number of laps up to that point.
The Colombian had taken only two new tyres at his previous two stops to keep the track position that had proved key to being able to race up front. However Gordon was on four new Goodyears - as were most of his rivals on the last restart - and the Hendrick driver quickly got ahead when the green flag waved.
From there he was able to open a safe cushion to polesitter Kurt Busch, who got beaten for position by Gordon in the pits after leading before the last caution came out.
As the race went green all the way through the final 41 laps, the leaders completed their final stops for fuel without drama and Gordon was able to stretch the gap to his Penske rival, beating him by by nearly three seconds in the end.
"When we don't win, I get down and everybody does in this sport and you start to question everything," said Gordon. "Today was proof that all that hard work can pay off. The balance of the car was great all weekend. The grip was there and then you follow that up with great pitstops. That is an amazing effort. We talked about it before the race started and it all came together today."
Gordon's victory vaults him up into the top 12 in the points with two victories this season, stating a strong claim to be one of this year's Chase contenders.
Kurt Busch finished more than three seconds ahead of his sibling Kyle, who was racing his back-up car after wrecking his primary Dodge during the final practice session on Friday. His result keeps momentum up for Penske Racing, after Busch was dominant at Kansas last week before his team-mate Brad Keselowski ended up taking victory.
"The old boy Jeff Gordon had it in him today," said Kurt Busch. "We ran him strong, we ran him hard. I'm real proud of our car today, our team, our teamwork.
"We were in a back-up car, so we didn't know what to expect, but we ran it as hard as we could. I shifted every lap. I overworked it, but it made it through the 500 miles. This Dodge was great for us today."
Kyle Busch finished strongly at one of his worst tracks statistically, although his car failed the post-race inspection after being found to be lower than the tolerances mandated for the left front.
The Joe Gibbs Racing driver had an early battle with Richard Childress Racing's Kevin Harvick, which NASCAR officials deemed was getting too aggressive - leading to a warning to both drivers. Fines and points penalties are expected for Busch and his team for their post-race inspection issue.
Reigning champion Jimmie Johnson and Harvick rounded out the top five after solid runs, followed by Dale Earnhardt Jr and Montoya, who nursed his car to the finish surviving transmission issues in the last part of the race that forced him to run using only fourth gear during his final stint.
"We had a great car," said Montoya. "With like 25 laps to go I lost third gear. It was kind of weird. It was a good thing we didn't have another caution because we would have been completely done."
Tony Stewart, Jamie McMurray and Marcos Ambrose were also among those suffering from transmission issues amid the return of shifting to Pocono.
Joe Gibbs Racing's Denny Hamlin led the most laps but suffered a left rear puncture right after his penultimate pitstop, the shredded tyre apparently cutting a brake line. He eventually finished 19th, dropping to 12th in the drivers' standings.
Points leader Carl Edwards was hit by engine issues early in the race and his 40-point lead has shrunk down to only six to Johnson after he crossed the line in 37th place following a lengthy stoppage in his garage to try and diagnose the issue.
Results - 200 laps:

Pos  Driver              Team/Car                         Time/Gap
 1.  Jeff Gordon         Hendrick Chevrolet           3h26m21.000s
 2.  Kurt Busch          Penske Dodge                     + 2.965s
 3.  Kyle Busch          Gibbs Toyota                     + 6.387s
 4.  Jimmie Johnson      Hendrick Chevrolet               + 7.519s
 5.  Kevin Harvick       Childress Chevrolet             + 13.422s
 6.  Dale Earnhardt Jr   Hendrick Chevrolet              + 14.204s
 7.  Juan Pablo Montoya  Earnhardt Ganassi Chevrolet     + 16.789s
 8.  Matt Kenseth        Roush Fenway Ford               + 17.050s
 9.  Ryan Newman         Stewart Haas Chevrolet          + 20.908s
10.  Martin Truex Jr     Waltrip Toyota                  + 21.419s
11.  Joey Logano         Gibbs Toyota                    + 22.708s
12.  Kasey Kahne         Red Bull Toyota                 + 27.447s
13.  David Reutimann     Waltrip Toyota                  + 32.050s
14.  Paul Menard         Childress Chevrolet             + 32.471s
15.  Regan Smith         Furniture Row Chevrolet         + 32.925s
16.  Clint Bowyer        Childress Chevrolet             + 34.542s
17.  David Ragan         Roush Fenway Ford               + 35.212s
18.  Mark Martin         Hendrick Chevrolet              + 38.210s
19.  Denny Hamlin        Gibbs Toyota                    + 40.744s
20.  Jeff Burton         Childress Chevrolet             + 40.777s
21.  Tony Stewart        Stewart Haas Chevrolet          + 41.603s
22.  Brian Vickers       Red Bull Toyota                 + 47.591s
23.  Brad Keselowski     Penske Dodge                    + 52.535s
24.  Landon Cassill      Phoenix Chevrolet               + 56.551s
25.  AJ Allmendinger     Petty Ford                        + 1 lap
26.  Dave Blaney         Baldwin Chevrolet                 + 1 lap
27.  Greg Biffle         Roush Fenway Ford                 + 1 lap
28.  Bobby Labonte       JTG Daugherty Toyota              + 1 lap
29.  David Gilliland     Front Row Ford                    + 1 lap
30.  Casey Mears         Germain Toyota                   + 2 laps
31.  Mike Bliss          FAS Lane Ford                    + 3 laps
32.  Andy Lally          TRG Chevrolet                    + 6 laps
33.  Jamie McMurray      Earnhardt Ganassi Chevrolet     + 11 laps
34.  Marcos Ambrose      Petty Ford                      + 46 laps
35.  Sam Hornish Jr      Front Row Ford                  + 60 laps

Retirements:

     Tony Raines         Front Row Ford                   124 laps
     Carl Edwards        Roush Fenway Ford                59 laps*
     Scott Wimmer        Gordon Dodge                      51 laps
     TJ Bell             LTD Toyota                        33 laps
     Joe Nemechek        NEMCO Toyota                      29 laps
     Michael McDowell    HP Toyota                         29 laps
     JJ Yeley            Whitney Chevrolet                 23 laps
     Scott Riggs         Whitney Chevrolet                 17 laps

* Running again at chequered flag