Greaves delighted with LMP2 win
| | |
| --- | --- |
| | Sunday, June 12th 2011, 17:54 GMT |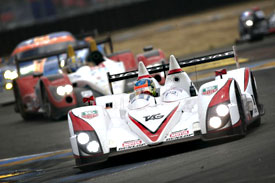 Graves Motorsport duo Tom Kimber-Smith and Olivier Lombard were elated with their performance in Le Mans, after their Zytek-Nissan dominated the LMP2 class to win by more than seven laps.
Britain's Kimber-Smith, who first raced in Le Mans in 2007 with Panoz but hadn't been back since, insisted the team's strategy of a low-risk approach to the race had paid dividends.
"We always had a plan, and it was simply to stay out of trouble," he reflected. "The two big crashes for Audi showed anything can happen, so we just stuck to our plan and it worked out perfectly.
"Olivier (Lombard) showed that we could have been the fastest LMP2, but such speed carries risks. There"s a perception that you always have to be fast, but in LMP2 you also have to finish and that"s exactly what we did."
Lombard meanwhile enjoyed a fairy tale weekend in Le Mans, taking a class win despite only testing the car for the first time a week prior to the race.
"It's truly exceptional, there's no other word for it," the Frenchman reflected. "I only tested last weekend and today we won!
"It was a delight for me and even though there was fatigue and stress I thought I coped well. Hopefully this success can be the start of things, maybe even a driver for next year as well."