Fassler hails 'incredible' race
| | |
| --- | --- |
| By Stuart Codling and Simon Strang | Sunday, June 12th 2011, 16:57 GMT |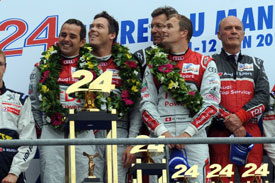 Marcel Fassler - the first Swiss driver to win Le Mans - says that he went through the full breadth of emotions as he watched his team-mates fight it out with the #9 Peugeot of Simon Pagenaud, Sebastien Bourdais and Pedro Lamy during the final hours of the 2011 Le Mans 24 Hours.
Fassler who shared the winning R18 TDI with Andre Lotterer and Benoit Treluyer shouldered immense pressure for two thirds of the race, after both the team's other cars had fallen victim to appaling accidents.
This left the #2 car exposed to the full might of Peugeot's factory attack, meanwhile the trio had been instructed to drive flat out to the finish. Things got dicey for the winners in the final hours, particularly when rain hit the circuit shortly before midday.
Fassler ended his last stint in the 16th hour, handing over to Lotterer after a dramatic battle with Anthony Davidson's #7 Peugeot, but was forced to watch on nervously.
"For me this race was incredible," said Fassler. "In the last five hours I was in the pits with everybody, standing by the car when it came in.
"I didn't know where we were going in the rain. I know how difficult it is to drive a car like this on slicks in the rain.
"It's a day I'll never forget."