McNish: Crash pass not ambitious
| | |
| --- | --- |
| By Simon Strang and Matt Beer | Sunday, June 12th 2011, 13:18 GMT |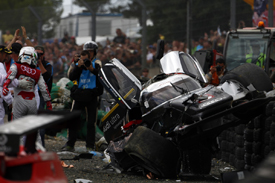 Allan McNish does not think the pass on Anthony Beltoise that ended in his huge crash early in the Le Mans 24 Hours was over-ambitious.
The Scot's Audi made contact with Beltoise's Luxury Ferrari as he lapped the GT just after the Dunlop Bridge near the end of the first hour. The Audi went into a spin then rolled through the gravel and destroyed itself against the barrier.
McNish said the incident was just a classic misunderstanding amid Le Mans traffic.
"From where I was sitting going into that corner there was not one bit of me that thought I was going to have a crash," he said. "What you see on the television camera is a very different angle to what you see in the cockpit.
"From my point of view it wasn't a risk to get into that corner. And Anthony said that he didn't see me at all. But I kept well to the right hand side so that he had as much vision as possible. I didn't stay in close tight to him, I kept well to the right hand side to come through into that gap.
"I had no plan to pass the Ferrari, I was just looking to pass one car and to me it was a safer solution than to try to squeeze in with Timo [Bernhard]. With the momentum it wasn't a problem.
"I've made that overtake many, many times before and I saw other drivers doing it in the race afterwards when I was resting. Obviously there was an accident but at that time I wasn't thinking it was like that."
He did not think either driver should be blamed for the crash.
"I think you can't blame people in these circumstances," said McNish. "It's a part of racing and it's a part of Le Mans.
"He obviously had concern about the situation. He's not new to this type of racing, he's experienced and a good driver. I don't apportion blame, and I don't think it is the right to be honest considering what could have happened and where we are I think we should be a bit more positive about it."
McNish also played down suggestions that the rule changes that had brought the prototype and GT cars' straightline performance closer together had directly caused the crash - though he admitted that traffic now had to be handled differently.
"It's definitely more tricky to overtake with less speed differential," he said.
"When you have got less speed differential on the straight you are overtaking more in the corners. You can see that the race is coming down to just tenths right now, so you know you have got to maximise advantages when you can.
"But whether it increased the chances of it I'm not sure to be honest. It definitely... if I had 100bhp more then I would definitely have overtaken him easier, but then again it might have been at a different state in the corner."