H9: Race remains under yellow
| | |
| --- | --- |
| By Stuart Codling | Saturday, June 11th 2011, 21:59 GMT |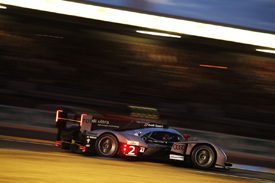 The #2 Audi R18 of Andre Lotterer continues to lead at Le Mans, with the field still running behind the safety car while repairs are effected on the barrier at the scene of Mike Rockenfeller's earlier accident. The course is not expected to be green-flagged until 0015.
All the factory Peugeots remain in the race, headed by the #7 entry driven by Marc Gene in second place. Sebastien Bourdais is close behind in third, while the #8 car which was delayed in the pits during the first safety car period is nearly a lap behind in fourth.
ORECA's year-old 908 fifth and a lap down, but it has two laps in hand over the leading petrol-powered LMP1. The #16 Pescarolo-Judd driven by Christophe Tinseau held a narrow lead over Nicolas Prost's Rebellion Lola-Toyota but had to pit on lap 125, letting Prost through but emerging ahead of the second Rebellion car driven by Guy Smith, which is at the other end of the lap in eighth place.
Not content with pulling a quadruple stint this afternoon, Alexandre Premat is back at the wheel of the LMP2-leading #48 ORECA-Nissan, with a lap in hand over the #41 Greaves Zytek currently driven by Olivier Lombard.
Oliver Gavin remains aboard the GTE Pro-leading #74 Chevrolet Corvette, ahead of the #59 Luxury Racing Ferrari driven by Jaime Melo. Marc Goossens is running third in class in the #75 Porsche.
The leading trio in GTE Am are on the same lap, headed by Christophe Bourret in the #70 Porsche. The pursuing #50 Chevrolet and #57 Krohn Ferrari are a minute and a half behind.
POSITIONS AFTER NINE HOURS

Pos  Car            Team                      Class   Gap
 1.  #2  Audi       Audi Sport Team Joest     (LMP1)  
 2.  #7  Peugeot    Peugeot Sport Total       (LMP1)  +    1 Lap
 3.  #9  Peugeot    Team Peugeot Total        (LMP1)  +    1 Lap
 4.  #8  Peugeot    Peugeot Sport Total       (LMP1)  +    1 Lap
 5.  #10 Peugeot    Team Oreca-Matmut         (LMP1)  +   2 Laps
 6.  #12 Lola       Rebellion Racing          (LMP1)  +   4 Laps
 7.  #16 Pescarolo  Pescarolo Team            (LMP1)  +   5 Laps
 8.  #13 Lola       Rebellion Racing          (LMP1)  +   5 Laps
 9.  #48 Oreca      Team Oreca-Matmut         (LMP2)  +   8 Laps
10.  #22 Lola       Kronos Racing             (LMP1)  +   8 Laps
11.  #41 Zytek      Greaves Motorsport        (LMP2)  +   9 Laps
12.  #24 OAK        OAK Racing                (LMP1)  +   9 Laps
13.  #39 Lola       PeCom Racing              (LMP2)  +  10 Laps
14.  #42 HPD        Strakka Racing            (LMP2)  +  10 Laps
15.  #33 Lola       Level 5 Motorsports       (LMP2)  +  11 Laps
16.  #49 OAK        OAK Racing                (LMP2)  +  11 Laps
17.  #26 Oreca      Signatech Nissan          (LMP2)  +  11 Laps
18.  #35 OAK        OAK Racing                (LMP2)  +  13 Laps
19.  #74 Corvette   Corvette Racing           (GTEP)  +  13 Laps
20.  #59 Ferrari    Luxury Racing             (GTEP)  +  14 Laps
21.  #75 Porsche    Prospeed Competition      (GTEP)  +  14 Laps
22.  #51 Ferrari    AF Corse                  (GTEP)  +  14 Laps
23.  #73 Corvette   Corvette Racing           (GTEP)  +  14 Laps
24.  #36 HPD        RML                       (LMP2)  +  14 Laps
25.  #80 Porsche    Flying Lizard Motorsports (GTEP)  +  15 Laps
26.  #55 BMW        BMW Motorsport            (GTEP)  +  15 Laps
27.  #56 BMW        BMW Motorsport            (GTEP)  +  15 Laps
28.  #77 Porsche    Team Felbermayr-Proton    (GTEP)  +  15 Laps
29.  #76 Porsche    IMSA Performance Matmut   (GTEP)  +  15 Laps
30.  #44 Norma      Extr                      (LMP2)  +  16 Laps
31.  #70 Porsche    Larbre Competition        (GTEA)  +  16 Laps
32.  #50 Corvette   Larbre Competition        (GTEA)  +  17 Laps
33.  #57 Ferrari    Krohn Racing              (GTEA)  +  17 Laps
34.  #61 Ferrari    AF Corse                  (GTEA)  +  17 Laps
35.  #81 Porsche    Flying Lizard Motorsports (GTEA)  +  17 Laps
36.  #65 Lotus      Lotus Jetalliance         (GTEP)  +  18 Laps
37.  #71 Ferrari    AF Corse                  (GTEP)  +  18 Laps
38.  #40 Oreca      Race Performance          (LMP2)  +  19 Laps
39.  #88 Porsche    Team Felbermayr-Proton    (GTEP)  +  21 Laps
40.  #63 Porsche    Proton Competition        (GTEA)  +  22 Laps
41.  #83 Ferrari    JMB Racing                (GTEA)  +  22 Laps
42.  #68 Ford       Robertson Racing          (GTEA)  +  25 Laps
43.  #60 Aston      Gulf AMR Middle East      (GTEA)  +  26 Laps
44.  #66 Ferrari    JMW Motorsport            (GTEP)  +  28 Laps
45.  #89 Ferrari    Hankook Team Farnbacher   (GTEP)  +  28 Laps
46.  #64 Lotus      Lotus Jetalliance         (GTEP)  +  41 Laps
47.  #58 Ferrari    Luxury Racing             (GTEP)  +  49 Laps
48.  #5  Oreca      Hope Racing               (LMP1)  +  57 Laps
49.  #15 OAK        OAK Racing                (LMP1)  +  60 Laps
50.  #1  Audi       Audi Sport Team Joest     (LMP1)  +  11 Laps
51.  #62 Ferrari    CRS Racing                (GTEA)  +  43 Laps
52.  #79 Aston      Jota                      (GTEP)  +  53 Laps
53.  #20 Zytek      Quifel-ASM Team           (LMP1)  Retired
54.  #3  Audi       Audi Sport North America  (LMP1)  Retired
55.  #007  AMR-One  Aston Martin Racing       (LMP1)  Retired
56.  #009  AMR-One  Aston Martin Racing       (LMP1)  Retired