Hamilton says car 'just very slow'
| | |
| --- | --- |
| By Matt Beer | Saturday, June 11th 2011, 19:53 GMT |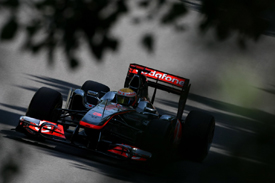 Lewis Hamilton felt he got the absolute maximum speed available from his McLaren in Canadian Grand Prix qualifying, and reckons the team's fifth and seventh places on the grid prove it is losing ground to Red Bull and Ferrari.
Hamilton and team-mate Jenson Button were unable to get involved in the Montreal pole fight, and were 0.5 seconds and 0.8s respectively off the pace.
"We are just very slow this weekend. It appears that the other guys have maybe made a step forward, but I really don't know," said Hamilton.
"We're still not in the worst position, but I would like to be higher up. This was just the maximum the car was able to do. This weekend we're just lacking speed.
"It's a long race, the weather's up and down, anything could happen here so we'll just have to wait and see."
Hamilton was confident he could not have got anything more out of the car.
"I feel happy within myself. I don't think I've ever driven the car so hard in my life, really," he said.
"I was just on such a ragged edge. I think I even touched the wall at one point.
"I tried to use the tow of another car because we're so slow on the straight. We have the wrong gearing, so we're 10km/h - maybe more, maybe 12-13km/h - slower on the straight. So we're losing a couple of tenths just on the back straight.
"But I pushed as hard and that's as good as we can get."
He fears that polesitter Sebastian Vettel and Red Bull are beginning to look uncatchable, and that McLaren's form has stagnated.
"Vettel's gone, he's on his way," Hamilton said. "They're very, very hard for us to catch at this rate.
"But I'm still positive and I'm still hopeful. I don't know when we've got anything coming, but I really, really hope sometime soon we'll have something positive come to the car.
"We didn't really come with any upgrades, the car's not really progressed a lot. While we've been bringing a lot of different updates every now and then, they're not making the car faster generally.
"So we've been at a bit of a standstill for a while. The guys are working as hard as they can, and it's just a matter of time."
Button agreed that McLaren lacked ultimate pace this weekend, and felt he had exacerbated the situation with mistakes on his best lap in Q3.
"It's always frustrating when you're not quick," he said. "We didn't have the pace that we thought we would.
"We always knew that our race pace was better than qualifying, but we're surprised to be where we are.
"My last run was looking really good, and then I just over-drove really, starting locking up and losing time.
"A lot can happen here, this is a circuit where you can overtake. We've just got to hope that our race pace is better than our qualifying."