Virgin to shift focus after Silverstone
| | |
| --- | --- |
| By Edd Straw | Saturday, June 11th 2011, 15:41 GMT |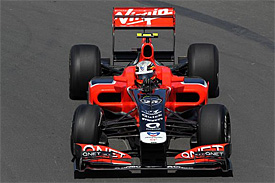 Virgin will introduce its final major upgrade package of the 2011 season at next month's British Grand Prix as it switches its focus onto next year's car.
The team parted company with technical director Nick Wirth after the Monaco Grand Prix, and is currently working on establishing a new design and development base.
The Silverstone package was signed off by Wirth before he stopped working for the team, and the package is currently in the production phase. By opting against further major upgrades, the team can pour all of its resources into its new technical hub and the 2012 Virgin MVR-03.
"Up to Silverstone and that will probably be it," said team boss John Booth when asked by AUTOSPORT what upgrades are in the pipeline. "There will be small things after that, but nothing major.
"We want to race this year and we want to qualify for every race. We want to do the best we can, but it's difficult for a team with our resources to have two programmes going at once. Even the big teams struggle with that and have a cut-off point.
"Of course, we have the technical working group next week with the decision on the blown diffuser and we may have to take a view on our development programme when that decision has been made."
Booth confirmed that the team has no plans to appoint a new technical director "in the immediate future" but that the new design and development base must be up and running soon.
Former Renault director of engineering Pat Symonds, who is a consultant to the team, is currently overseeing the establishment of the new facility.
"We need to establish it within a month," said Booth. "It will be in England, but it's unclear at the moment. The Silverstone area may be a possibility because it's fairly central for attracting people from a wide area."
Booth confirmed that the decision to part with Wirth was down to the team's disappointing level of performance this year.
Virgin had targeted appearances in Q2, but Timo Glock and Jerome d'Ambrosio have yet to threaten to make it out of the bottom seven during qualifying and have only been able to outpace the HRTs.
Although a plan whereby Wirth could continue to be involved in the team as CFD provider was among the courses of action evaluated, it was decided that a clean break would give the team the best chance to achieve its competitive goals in 2012.
"The decision was made because what we have now was not working," Booth told AUTOSPORT. "We have made no secret of the fact that we expected to be much more competitive this year than we were last year and this has not been the case.
"We are in exactly the same place as last year and you could argue that we are slightly worse. Now is the time of year when we have to commit ourselves to the 2012 car because there didn't seem to be any point in doing the same again.
"We spent months deliberating and looking at every possibility. It wasn't a decision that we arrive at overnight. All options were looked at."