Q & A: Aston tech chief on AMR-One
| | |
| --- | --- |
| By Stuart Codling | Saturday, June 11th 2011, 11:25 GMT |
Aston Martin's decision to swap from a closed-cockpit, V12-engined prototype to an open-top chassis powered by a turbocharged straight-six was brave, but the technically ambitious AMR-One has been beset by reliability problems throughout its short existence.
Technical director George Howard-Chappell talks to AUTOSPORT about the team's hopes for the Le Mans weekend and the reasons for moving to an open-cockpit chassis.
Q. What have been the main challenges you've encountered during development of the AMR-One?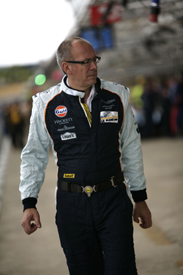 George Howard-Chappell: Signing the car off in September gave us a huge challenge. We've been really good in the past at starting late with small resources and still getting a hell of a result; this time hasn't worked out quite as well but you have to take the rough with the smooth in life. It was a very bold decision to make at that point and it's a bold concept in the car.
Predominantly our problems have been engine-related - that's starting to come together now, but it's going to take a bit longer. Ultimately it's a three-year programme and we're a few months in, so it'll take some time to get on our feet and be really competitive.
Q. What was your main rationale for going from a closed-cockpit car to an open-top?
GH-C: We could probably spend an hour going through the pros and cons of open-top versus closed-cockpit! We did a modest aerodynamic study and found that there was a very small gain with the closed car, but we decided that with everything that's involved in making a closed car versus an open car, we'd go the open route. There's a whole bunch of different factors you have to consider, and weighing them up one way or another we decided that open offered the best overall racecar.
Q. What do you think is a realistic target for this weekend?
GH-C: We're developing the car as we're racing so we'll run it as long as we can. If we can get one to the end we'll be thrilled.
Q. In terms of operating during race conditions, have you had to do much work on finding a set-up that's sympathetic to the tyres?
GH-C: The tyres are amazingly durable this year. We can do a lot of stints on a set of tyres. With the cars at 900 kilos and the big front tyres, combined with the substantial power reduction since last year, they're lasting a lot longer.