Cup drivers welcome shifting return
| | |
| --- | --- |
| By Diego Mejia | Friday, June 10th 2011, 22:54 GMT |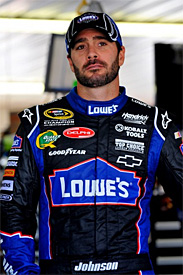 NASCAR Sprint Cup Series drivers have welcomed the return of gear shifting at Pocono, as adjustments to rules for transmissions have allowed teams to find performance gains by using third gear.
During Friday's Cup practice sessions drivers had a busier time than usual, as shifting does not usually take place on ovals. Restarts and pitstops apart, all ovals on the calendar are driven in fourth gear, but Pocono's unique triangle shape has been the exception in the past.
Given that the track has three different corners, with varied ratios and levels of banking plus three straights also with differing length, downshifting to third gear for Turns 1 and 3 proved to be an advantage in the past.
As cars and rules evolved though recent years shifting became less favourable and difficult to implement, but this weekend officials have allowed for third and fourth gear ratios to be closer than in recent years, so that teams are able to better optimise the use of their engines' power output though the 2.5-mile triangle.
"The real reason shifting stopped at Pocono was because gear ratios weren't compatible for shifting," said series director John Darby. "Over the last few years, teams have done it with limited success but not on a consistent basis.
"So, what we did was change transmission gear ratios to make it easier on engines and give teams a better opportunity to use third gear and shift. Primarily it's in an effort to allow the drivers to maximise the RPM on each of the three straightaways.
"When you look at the race track, you instantly see the issue that they're faced with."
Reigning champion Jimmie Johnson has welcomed the move while revealing that his team has tried it without much success for the past two years.
"If you are not shifting, you might want to move the power curve down and a lower RPM range where you will run and then if you shift you kind of want to do the opposite because you can stay in that peak RPM longer," said Johnson.
"I think it has been a good move. It brings a lot of interest to the track and a lot of discussion from a fan standpoint and the media standpoint. Gives us drivers options. Gives the team options, the engine shops options."
Johnson's Hendrick Motorsports team-mate Jeff Gordon, a four-time Pocono winner, believes the return of shifting will probably generate more overtaking opportunities than in recent years at the track, while proving challenging at the same time.
"I think it challenges you in a way as a driver and the team, to work on the car to be able to do that," Gordon said. "And so I think that just kind of adds another set of skills in there that I think are important, especially here at Pocono, as well as more opportunity to pass.
"And I think that's important because we've seen how track position is so important and getting your car to be able to turn down underneath somebody and then grab that gear to be able to try to make a pass I think is important.
"Some guys were shifting the last couple of times we were here with the old transmission. I don't know how they were doing it. I wasn't one of them and we were still fast. But to me, it makes sense to have the right third gear in there to be able to shift with that really works for you all the way around this place."
While some drivers are downshifting at Turns 1 and 3 deep into corner entry, some like four-time winner Denny Hamlin claimed to be only doing so at Turn 1, which has the tightest ratio of all three.
The Joe Gibbs Racing driver, fastest in final practice, anticipates shifting may well take its toll on engines during Sunday's race, given the risk of over-reving.
"I think that we're really only shifting in one corner - in Turn 1," said Hamlin. "You're still going to have the guys that typically run good here - looking at the practice speeds, it looked like the typical guys were pretty good.
"I don't think it will change a whole lot, but I do think it's going to be tough on the reliability of these racecars for 500 miles. Shifting takes its toll on engines for sure. Somebody will break one."
Two-time Pocono winner Carl Edwards believes shifting will have a big effect on fuel mileage, which may impact on how much drivers use third gear in the final portion of the race when typically strategy factors heavily in the outcome of the race at the track known as the 'Tricky Triangle'.
"I think you use more fuel shifting and getting into third gear and then lifting and standing on it again going into fourth you burn more fuel shifting," said Edwards, who was fastest in the first practice session. "If it becomes a fuel mileage race there won't be guys shifting that last run. You just never know.
"There have been a couple of fuel mileage races here that I have been a part of and it is a tough place to save fuel at. There are a lot of bumps and the car moves around a lot. It is really hard to run really smooth laps."
Sunday's 500-mile race at Pocono will be the first of two dates at the Pennsylvania track this year, another one coming in early August.