D'Ambrosio forced to use spare chassis
| | |
| --- | --- |
| By Edd Straw | Friday, June 10th 2011, 21:26 GMT |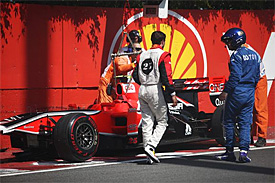 Virgin is building up a new car for Jerome d'Ambrosio around a spare chassis after he crashed during Friday afternoon's free practice session ahead of the Canadian Grand Prix.
The Belgian lost it in the middle of the right/left combination at Turn 4, slamming into the outside wall and prompting a second red flag of the 90-minute session.
The impact broke the nose mountings of his chassis, forcing the team to call the spare into service.
F1 regulations prohibit complete spare cars, but teams are allowed to build a new car around a spare chassis and he will return to the track for tomorrow morning's third free practice session.

"The day was going pretty well today. I had a good feeling with the car and I really enjoy driving here. But then I made a mistake in turn 3, which pushed me wide on to the kerb at Turn 4," said the Belgian.
"I couldn't turn in and so I ended up hitting the wall. It's a shame to finish the day like this but I was happy how the car was behaving on the circuit so I'm sure we can bounce back tomorrow, I'm just very sorry for the team as the guys now have a lot of work to do tonight."