Newton fit to race after Spa crash
| | |
| --- | --- |
| By Stuart Codling | Friday, June 10th 2011, 11:47 GMT |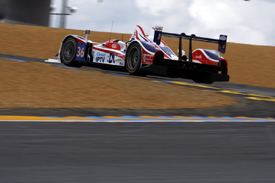 RML LMP2 driver Mike Newton has revealed that if his HPD ARX.01 had been immediately repairable after its crash at the Spa 1000km, he would have been fully prepared to get back in and drive it.
Newton was struck from behind by the Peugeot of Pedro Lamy on the approach to Fagnes in the last Intercontinental Le Mans Cup round and hit the barrier with a force that was recorded at 40G, writing off the HPD's tub.
"I got on the radio to tell Phil [race operations director Phil Barker] that I'd had a shunt, then I realised the radio had broken in two and was lying in the footwell," Newton told AUTOSPORT. "My glasses had broken as well and I'd sort of eaten my microphone. The funny thing is that if they'd been able to repair the car I'd have got back in it. The driver changes would have taken longer, though, because they'd probably have had to lift me in and out.
"It's a testament to modern safety standards - the car, the seat, the HANS device and the crash helmet - that I escaped with just bruises and a few aches and pains. It took a few weeks but I'm fine now.
"It was very encouraging for me to better our times from the test day in my first two stints here this weekend. I felt very comfortable and at home in the office, and it certainly banished any fears that perhaps I'd blunted the edge in terms of driving here."
Sourcing a replacement tub proved difficult. ORECA now owns the rights to the ex-Courage chassis design, and was unable to guarantee a new tub could be built before the beginning of June. RML therefore leased the ex-Andretti Green HPD ARX.01 from America.
"It took six days to strip down and rebuild before the shakedown at Snetterton," said Barker. "And it was delivered to Amsterdam rather than the UK so we didn't actually start work on it until May 28. We've worked some very long days, and because we have to rebuild the car afterwards and send it back, then build a new one around the replacement tub, we're not going to have much free time before the next race.
"We're not chasing a high qualifying position. The aim has been to set the car up to be easy to drive for 24 hours and forgiving, so if the driver wants a second bite at the apex he can do that without spinning off."