Heidfeld expects better qualifying
| | |
| --- | --- |
| By Edd Straw | Friday, June 10th 2011, 09:40 GMT |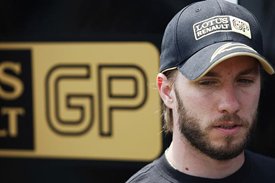 Nick Heidfeld is confident of an improved qualifying performance in Canada this weekend after he and the Renault team made progress in understanding their single-lap difficulties.
Renault team principal Eric Boullier was critical of the German after the Monaco Grand Prix, singling out his qualifying performances as a problem. He characterised Heidfeld's overall performance this season as "good, but not good enough."
Heidfeld qualified 15th for the Monaco GP, the fourth time in six races for Renault that he has failed to make the Q3 cut, and believes that getting the best out of the Pirelli rubber is key to his struggles.
"I was also frustrated after Monaco qualifying," he said when asked by AUTOSPORT whether he agreed with Boullier's comments. "But it's definitely something I'm working on.
"I'm easy on the tyres, which can be good in the race. But I don't get them working quickly enough. I don't blame the tyres, it's up to me to change it.
"I'm confident that I can do that together with the team. Everybody is fully behind me and we are working.
"I'm quite positive about the next few races because the team understood some issues that we had with the car. Hopefully we will be able to turn things around quickly and make a bigger improvement than other teams.
"Qualifying here will not be as important in Monaco and we have seen in other races that you can still have a good race performance. But the further forward you start, the better the race can be."
Heidfeld, who has struggled in the past with tyre warm-up in qualifying, would not comment on the areas where the team is changing the car, but admitted that the qualifying difficulties are down to both the car and the driver.
"There are many areas," he said. "It's the set-up of the car and my driving. We are looking into what we might improve.
"It's obvious that some cars are strong in qualifying, but fall back in the race irrespective of who is driving the car. It's several different things."