Strakka to shake down repaired car
| | |
| --- | --- |
| By Simon Strang | Thursday, June 9th 2011, 10:57 GMT |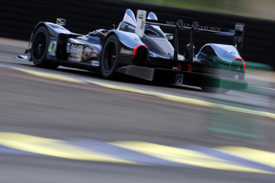 Strakka Racing will run a limited shakedown programme with its rebuilt HPD ARX.01 D in Thursday's two qualifying sessions following overnight work to repair the car after Nick Leventis' large accident on Wednesday.
The LMP2 provisional polesitter brought the opening qualifying session to a premature end when Leventis crashed at the first chicane at around 195km/h, significantly damaging the car and its engine and gearbox in a 9.4g impact.
"The only thing that survived was the tub," said team manager Piers Phillips. "The car did exactly what it should have done in that situation, it just fell apart. The engine was damaged, the gearbox, everything."
The team has now changed its plans for tonight and will run-in its race engine and give Leventis, Jonny Kane and Danny Watts a chance to acclimatise to the rebuilt machine ahead of the weekend.
Despite the size of the impact Leventis told AUTOSPORT he felt fine and reported no injuries.
"I just locked up the rears going into Turn 1 and the next thing I knew I was in the barrier," he said. "I braked a little bit too late and I was trying to find a bit of time - because I was losing time there - but it could have been a lot worse, to be fair. The boys have done a fantastic job to work through the night to get us back to where we need to be.
"It means it's put a bit of a different schedule on this evening but there you go. We got a good time in last night, a good banker, so we are not too concerned about grid position. A bit more running at night tonight would have been nice, but we are into our race programme now.
"We had a test programme that we wanted to work towards, but obviously things change and they never go quite according to plan so that would be the only major drawback. Obviously we are only here once a year and we didn't come to the test so it's good to get the car out and running and get all three drivers through at night and running and confident.
"We'll be in good shape," he added.