Perez sure he will be fit for Canada
| | |
| --- | --- |
| By Jonathan Noble | Tuesday, June 7th 2011, 13:58 GMT |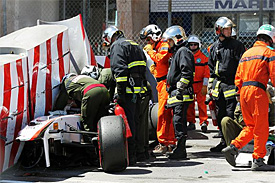 Sergio Perez has no doubts that he will be fit for this weekend's Canadian Grand Prix, after making a good recovery from his Monaco crash.
The Mexican spent two days in hospital in Monte Carlo after a high-speed accident in qualifying left him with concussion and a sprained thigh.
Speaking ahead of this weekend's event in Montreal, Perez said that he was confident he would pass the mandatory FIA medical tests that he will have to take on Thursday.
"Everything is fine," he said in an interview with Mexico Today. "I hope I will be able to race this weekend in Montreal and I am looking forward.
"It was quite a big shunt but it is part of the game and luckily nothing big happened. I lost consciousness in the accident but I am looking forward to the next race."
He added: "I'm perfectly fine, just some pain - but now it is going away and I really recover quite quick. The accident? I can't believe it was only a few days ago but I am very motivated now."
When asked about his confidence of getting the green light from the FIA, Perez said: "I just have to do an exam, and I feel I will be 100 % for the tests.
"I am looking forward to my next grand prix. I am looking forward to get some points, get some points for the team, and get a good momentum. I am ready for it."
Looking back at the causes of the Monaco crash, Perez also revealed that he had drifted slightly wide going through the tunnel after adjusting some settings in the cockpit.
"I was changing some stuff through the tunnel and I ran a bit wide to the wall. I think I ran onto the dirty side of the track, so when I braked I lost the rear end of the car and there was nothing else I could do.
"During the accident I was just thinking to be able to race the next day. Unfortunately it did not happen as it was a good opportunity."
The full interview with Perez can be seen here.