Todt says new engines could be delayed
| | |
| --- | --- |
| By Jonathan Noble and Pablo Elizalde | Tuesday, June 7th 2011, 10:06 GMT |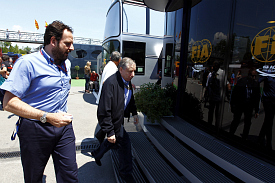 FIA president Jean Todt has confirmed that he may be willing to consider postponing the introduction of new 1.6-litre turbo engines in Formula 1 from 2013, even though Renault's future in the sport is said to depend on it.
The FIA announced last week that the door was open on a deal to delay the switch in F1 power-units providing there was unanimous support from stakeholders about the situation.
Although Renault is determined to push ahead with the change of rules, other manufacturers like Ferrari, Cosworth and Mercedes-Benz are less keen on making the expensive switch.
In an interview with Spanish newspaper Diario Sport on Tuesday, Todt said that he planned to speak to the engine makers again in the next few days to find out what their feelings were on the situation.
"It was them who proposed the rules that FIA has accepted," he said. "The proposal didn't fall out of the sky, but instead we had 11 meetings with all the representatives from the engine makers involved.
"If I talk to Renault, they say that if we don't introduce this engine for 2013 they will leave F1; if I talk to Mercedes and Ferrari, they ask me to delay the introduction for a few years. They aren't against the rules, they just wanted them postponed.
"Over the new few days I'll be in contact with them individually to know the stage we are at."
When asked about the possibility of the rules getting postponed, Todt said: "The official introduction is scheduled for 2013, but if we find enough reasons then there could be a postponement. But as of today, the introduction will be in 2013."