Busch, Childress in alleged altercation
| | |
| --- | --- |
| By Diego Mejia | Sunday, June 5th 2011, 05:16 GMT |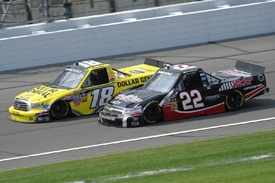 NASCAR officials are investigating an alleged altercation between team owner Richard Childress and driver Kyle Busch, which reportedly took place following the Truck Series race at Kansas on Saturday afternoon.
Busch, driving for his own team in the Truck race, battled side-by-side for many laps against Richard Childress Racing's Joey Coulter, who eventually beat the NASCAR star to fifth place.
After crossing the finish line Busch went after Coulter and bumped the side of his truck during the cool-down lap, showing he was unhappy with the way the 20-year-old raced him on the final lap.
"I hate that we got together on the last lap," said Coulter following the race. "I had never got tight next to somebody, so I was underneath him expecting to get loose, and I get tight and we kind of got together."
According to a number of reports, Richard Childress himself physically confronted Busch in the garage later, but neither has made any comment on the issue. Reports indicate that Busch was on the receiving end in the altercation.
"We had a horrible truck all day," a frustrated Busch had said after the race. "Just was fighting real, real tight. Couldn't get it to where it needed to be. We came in [the pits] and tried to make wholesale changes and work on the track bar... [just to] do something because all we were going to do was finish fourth or fifth. That's all we had anyway."
Busch is currently on probation by NASCAR, as is RCR's Kevin Harvick following a post-race altercation in the pits after the conclusion of a Sprint Cup Series race at Darlington four weeks ago.
The Truck race was won by Clint Bowyer, at the wheel of a Kevin Harvick Inc Chevrolet Silverado. Bowyer drives for Childress and is a team-mate to Harvick in the Sprint Cup.