Kurt Busch takes surprise pole
| | |
| --- | --- |
| By Diego Mejia | Saturday, June 4th 2011, 19:00 GMT |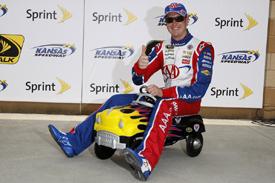 Penske's Kurt Busch claimed a surprise pole position for Sunday's NASCAR Sprint Cup Series race at Kansas, edging Earnhardt Ganassi's Juan Pablo Montoya.
Busch had been unhappy with the balance of his car during Friday's practice sessions and actually ended up spinning out of Turn 4 during a qualifying simulation run late in the final hour of practice.
However, his low position on the leaderboard ended up as a lucky break as based on this year's qualifying rules, the order for cars to go on track is determined by the best practice times, the fastest going out last when track conditions are usually at their best.
With Cup qualifying taking place before noon this time, those running first in the order after being slowest in practice got the coolest track temperatures of the session as the sun quickly brought grip levels down for most of the fastest from Friday's practice.
Montoya ran fourth in the order and set the benchmark before Busch came out next and pipped him for what turned out to be pole position for Sunday's 400-miler at Kansas.
"This is a great feeling, especially after yesterday when we spun in practice and had to repair the car with some of the front end damage," said Busch after Penske's second consecutive pole of the season, following Brad Keselowski's at Charlotte last week.
"The way the practice was a struggle for us, no we didn't expect to be in the pole and that early [run] definitely helped us, it didn't hurt... This is definitely a surprise, we're happy for it. It's been almost a year since we had a pole."
Cloud cover late in the session allowed some to get close to Busch's time, his brother Kyle actually ending up about a tenth short of pole and placed third for Joe Gibbs Racing.
His team-mate Joey Logano - fastest in practice - was fifth ahead of the similar Toyota of Red Bull's Brian Vickers, putting three Camrys in the top five on the grid.
Jamie McMurray, also an early runner in the order, ended up in sixth ahead of points leader Carl Edwards, who looks strong ahead of Sunday's race as well as his Roush Fenway team-mates, once again fast on the 1.5-mile tracks.
Meanwhile reigning champion Jimmie Johnson had his worst qualifying of the season, battling a loose car to end up 31st on the grid a week after his first DNF of the year due to an engine failure at Charlotte.
David Stremme ran last in the order with the group of those having to qualify on time, setting the fastest time among them with 29th place. Tony Raines and TJ Bell failed to qualify.
Pos  Driver              Team/Car                     Time     Gap
 1.  Kurt Busch          Penske Dodge                 30.901s
 2.  Juan Pablo Montoya  Earnhardt Ganassi Chevrolet  31.007s  + 0.106s
 3.  Kyle Busch          Gibbs Toyota                 31.020s  + 0.119s
 4.  Brian Vickers       Red Bull Toyota              31.036s  + 0.135s
 5.  Joey Logano         Gibbs Toyota                 31.061s  + 0.160s
 6.  Jamie McMurray      Earnhardt Ganassi Chevrolet  31.087s  + 0.186s
 7.  Carl Edwards        Roush Fenway Ford            31.097s  + 0.196s
 8.  Martin Truex Jr     Waltrip Toyota               31.104s  + 0.203s
 9.  Paul Menard         Childress Chevrolet          31.108s  + 0.207s
10.  Kevin Harvick       Childress Chevrolet          31.125s  + 0.224s
11.  Regan Smith         Furniture Row Chevrolet      31.138s  + 0.237s
12.  Ryan Newman         Stewart Haas Chevrolet       31.144s  + 0.243s
13.  Tony Stewart        Stewart Haas Chevrolet       31.149s  + 0.248s
14.  Greg Biffle         Roush Fenway Ford            31.169s  + 0.268s
15.  Denny Hamlin        Gibbs Toyota                 31.179s  + 0.278s
16.  Jeff Burton         Childress Chevrolet          31.196s  + 0.295s
17.  Kasey Kahne         Red Bull Toyota              31.208s  + 0.307s
18.  Mark Martin         Hendrick Chevrolet           31.231s  + 0.330s
19.  David Ragan         Roush Fenway Ford            31.240s  + 0.339s
20.  Bobby Labonte       JTG Daugherty Toyota         31.255s  + 0.354s
21.  Matt Kenseth        Roush Fenway Ford            31.258s  + 0.357s
22.  Jeff Gordon         Hendrick Chevrolet           31.259s  + 0.358s
23.  David Reutimann     Waltrip Toyota               31.264s  + 0.363s
24.  Landon Cassill      Phoenix Chevrolet            31.265s  + 0.364s
25.  Brad Keselowski     Penske Dodge                 31.303s  + 0.402s
26.  AJ Allmendinger     Petty Ford                   31.353s  + 0.452s
27.  Clint Bowyer        Childress Chevrolet          31.389s  + 0.488s
28.  Dale Earnhardt Jr   Hendrick Chevrolet           31.417s  + 0.516s
29.  David Stremme       Inception Chevrolet          31.418s  + 0.517s
30.  Travis Kvapil       Front Row Ford               31.446s  + 0.545s
31.  Jimmie Johnson      Hendrick Chevrolet           31.473s  + 0.572s
32.  JJ Yeley            Whitney Chevrolet            31.484s  + 0.583s
33.  Casey Mears         Germain Toyota               31.487s  + 0.586s
34.  Joe Nemechek        NEMCO Toyota                 31.497s  + 0.596s
35.  Marcos Ambrose      Petty Ford                   31.533s  + 0.632s
36.  Scott Riggs         Whitney Chevrolet            31.582s  + 0.681s
37.  Michael McDowell    HP Toyota                    31.616s  + 0.715s
38.  David Gilliland     Front Row Ford               31.625s  + 0.724s
39.  Andy Lally          TRG Chevrolet                31.655s  + 0.754s
40.  Patrick Carpentier  FAS Lane Ford                31.852s  + 0.951s
41.  Johnny Sauter       Gordon Dodge                 31.975s  + 1.074s
42.  Dave Blaney         Baldwin Chevrolet            32.173s  + 1.272s
43.  Mike Skinner        Germain Toyota               31.753s  + 0.852s

Did not qualify:

    Tony Raines         Front Row Ford               31.820s  + 0.919s
    TJ Bell             LTD Toyota                   31.846s  + 0.945s